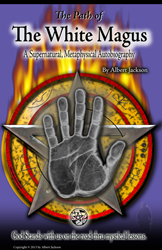 A riveting book. I would say turn the lights down and get ready for an adventure. Five stars!
(PRWEB) September 12, 2014
'The Path of The White Magus' invites readers to venture into former London Artist Albert Jackson's world. The book, chronicled with frightening and surreal true-life adventures that stretch out over the first half of a lifetime, is a roller coaster ride that moves across continents and back again. In it, readers will find a parade of life lessons stamped out on a stage filled with clairvoyants, psychic realization, past life regression, mediums, the tarot, demonic forces and premonitions. All of it comes to fruition as Jackson moves up the ladder in the London art scene. "You may not believe in this world, but it believes in you," says Jackson. "Reality is stranger than your imagination."
Albert Jackson is a gifted psychic and clairvoyant who possesses the ability to read and interpret the tarot and other forms of divination. Albert has worked as a reader for more than 18 years; he has worked with some of the most dynamic psychic networks in the United States and Europe. He made regular appearances on the late night national, Sadie Nine show on BBC Radio London 94.9FM. His spiritual on the air readings became a very popular and highly rated segment of her show.
"I didn't want to recognize or experience the realities normally left to the boundaries of the unknown. But at an early age, I was initiated, forced at first ... to participate and later guided on a life long journey into the world of the supernatural." Albert believes we are all connected to a spiritual world of endless possibilities and knowledge is our key to personal growth. "Let God and peace be with you. I believe I'm here to help people. To offer clarity, insight, hope, knowledge and honesty where I can. I am devoted to two things in my life, the spiritual world and my creative life as a painter, sculptor and a writer."
Albert Jackson's first show in the UK was held in Birmingham and was highly acclaimed by critics and art buyers alike, thus attracting dignitaries such as Peter Hain, former Leader of the House of Commons, and interviews on BBC national radio and television.
''One of the most innovative contemporary sculptors and painters of his time,'' wrote the Evening Mail, London.
"Despite appearances this is not a group show but the electric output of one artist – Albert Jackson," wrote Emma Safe - Metro Magazine, London.
Jackson states, "If I can help, other unknowing individuals manage the minefield of this strange, and intriguing world thru my experiences, then my job is done."
Contact: albert(at)albertjackson(dot)com
Press articles
Book reviews from Amazon
Twitter:@TheWhiteMagus | Facebook: The Path of The White Magus