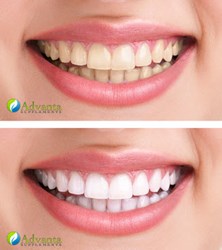 This powerful home whitening solution is the only one that comes with free refills of the whitening solution.
Seattle, WA (PRWEB) December 19, 2013
The wedding industry discovered the amazing whitening results achieved with Advanta Supplements' amazing Teeth Whitening Kit which caused a shortage of the product on the market. Advanta Supplements is pleased to announce that their teeth whitening kit is now back in stock at Amazon and available for immediate purchase.
Coffee, tea, cola and wine lovers, smokers, people with discolored teeth due to tetracycline (antibiotic) staining, and everyone else who wants to rapidly enjoy a brighter, whiter smile can now purchase the new Teeth Whitening Kit from Advanta Supplements for $25, and receive an unlimited supply of teeth whitening solution, so they can re-whiten or touch up their teeth whenever they wish.
Advanta Supplements' Teeth Whitening Kit includes everything that people need to professionally whiten teeth in the comfort and privacy of their own home, including: two 10cc syringes of 35% carbamide peroxide, one dental tray for both upper and lower teeth, and an innovative Teeth Whitening Pen that allows for convenient "teeth whitening on the go" in between applications.
"Our 35% carbamide peroxide solution has been shown to provide the whitest teeth in the shortest amount of time," commented a spokesperson from Advanta Supplements. "In our view, it's the best teeth whitening solution available, and an ideal way to rapidly enjoy a dazzling style -- and maintain it for years and years, thanks to our unlimited supply of teeth whitening solution."
Advanta Supplements' Teeth Whitening Kit is available now on Amazon.com at http://www.amazon.com/Teeth-Whitening/dp/B006QOE5N2. It is currently priced at $25, which is 72% off the list price of $89.99. Customers can also take advantage of Advanta Supplements' 100% money-back satisfaction guarantee if they don't experience the rapid whitening benefits they desire.
About Advanta Supplements
Located in the heart of Iowa, Advanta Supplements partners with FDA-approved labs to develop, test, and manufacture a line of quality vitamins and nutritional supplements. All Advanta products are made in the U.S. and backed by a complete customer satisfaction guarantee. Learn more at http://www.advantasupplements.com.