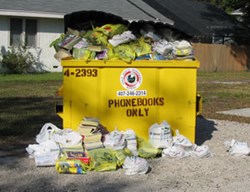 YellowPagesGoesGreen.org serves another purpose - saving the Earth
East Northport, NY (PRWEB) September 17, 2013
YellowPagesGoesGreen.org, an Internet based phone directory, is proud to release their White Pages services into the State of Kansas, giving local residents access to a vast residential telephone directory search database.
YellowPagesGoesGreen.org is a cutting-edge website and alternative to print directories that delivers over 28.5 million up-to-the-minute listings of businesses throughout the United States; users can quickly, easily, and conveniently access the information they need to find the services and listings they want.
"In addition to Kansas phone data this new addition now brings 'people information' of up to 200,000,000 million residential telephone numbers throughout the entire United States," said President Michael Keegan.
"YellowPagesGoesGreen.org serves another purpose - saving the Earth. Online directories such as YellowPagesGoesGreen.org and now WhitePagesGoesGreen.org, as opposed to paper-based phone books, help reduce man's destructive footprint on the environment of our planet. The degree that society consumes and destroys our forests in the name of paper consumption is alarming," Keegan added.
"The expansion of our web site into Kansas offers residents a powerful and green alternative to traditional residential print directories; instead of a wasteful, cumbersome, annually-produced, paper-based phone book that is often rendered out-of-date weeks or even days after it is published," Keegan added.
About Yellow Pages Directory Inc.,
YellowPagesGoesGreen.org offers an environmentally-friendly online-based alternative to paper telephone directories while providing a simple and convenient mechanism for customers to opt out from the receipt of printed yellow books. Yellow Pages Directory Inc. has also taken steps to reduce its own impact on the environment through the use of the most up-to-date and energy-efficient web-hosting services available.
For more information please visit http://www.whitepagesgoesgreen.org.