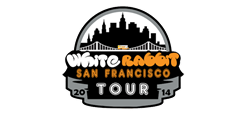 Popular Filipino fusion food dealer from Los Angeles will be hitting the Bay Area May 24-25.
(PRWEB) March 12, 2014
Filipino fusion food – cuisine from the Philippines with a Mexican twist – has become the rage in southern California, thanks to the White Rabbit, a food truck that began making neighborhood stops in 2010.
After just four months of truckin', the White Rabbit's popularity led to the opening of a restaurant in Canoga Park, Calif. The food truck itself has made stops in more than 100 California cities and has even ventured as far as Las Vegas. White Rabbit's delectable dishes have been featured on the Food Network and the Travel Channel, and have received outstanding reviews in the Zagat restaurant guide.
With more than 20,000 followers on Twitter, Facebook, Instagram and an ever-expanding mailing list, the White Rabbit (whiterabbittruck.com) is ready to take the next big step: a road trip to San Francisco on May 24-25.
Why San Francisco?
Simple. The Bay Area has the largest Filipino population in the country; Filipino-Americans make up 35 percent of the city's residents. In northern California, word has quickly spread about the White Rabbit's great food, selection and service, and requests for a San Francisco appearance have been pouring in.
"Making an 800-mile round trip with the truck, however, is easier said than done," explains James Du, master chef, co-owner of White Rabbit and San Francisco native. "The truck is not designed to travel long distances so we'll need to get it towed. We also need to obtain the proper permits and promote the trip so people will know where we are and how to get our food."
The total tab is about $25,000 so Du and company are using a Kickstarter campaign to raise funds. Donations as small as $5 are being accepted. For larger contributions, White Rabbit fans receive a meal combo, T-shirts and – for a $1,500 pledge – their own private Filipino fusion party.
To support this effort or for more information, visit http://www.kickstarter.com/projects/641065809/filipino-food-truck-los-angeles-to-san-francisco-t.
All meal combos will be pre-sold at $20 each with a limited edition t-shirt and distributed in designated areas of San Francisco. There will be no walk-up sales so White Rabbit fans in the Bay area are encouraged to buy their meals in advance through Kickstarter.
"This is something no truck has ever done," says Du. "We believe that, through this campaign, Filipino food will make a much greater presence in mainstream America."
For further information about the White Rabbit truck and its San Francisco trip, visit whiterabbittruck.com or http://www.kickstarter.com/projects/641065809/filipino-food-truck-los-angeles-to-san-francisco-t. You can also contact White Rabbit at info(at)whiterabbittruck(dot)com or 818-772-6900.