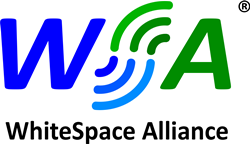 CHELMSFORD, Mass. (PRWEB) January 08, 2020
The WhiteSpace Alliance (WSA) ®, a global industry organization enabling sharing of underutilized spectrum, announced today that member company Saankhya Labs has introduced the industry's first Wi-FAR ®-compliant Television White Space solution to be certified by the U.S. Federal Communications Commission (FCC).
The Saankhya solution includes radio modules for both base station and customer premise equipment, and is based upon the Institute of Electrical and Electronics Engineers (IEEE) and International Standardization Organization (ISO) 802.22 specification for wireless regional area networks. The standard defines advanced radio technology to dynamically identify, access and share unused TV channels ("white space") to provide low-cost internet connectivity. The products are compliant with an international standard known as Wi-FAR, a derivative of IEEE 802.22 developed by WSA. Wi-FAR is an interoperability specification that can enable development of a multi-vendor ecosystem for IEEE 802.22-compliant products, fostering innovation and bringing costs down.
TV White Space solutions are well suited for delivering cost-effective communications for middle-mile and long distance applications in both Point-to-Point and Point-to-Multipoint topologies. The powerful propagation characteristics of TV band broadcast signals enable fixed wireless broadband services to be delivered over long distances, making them ideal for providing internet connectivity where wired infrastructure is not cost effective to deploy, and vegetation makes traditional line-of-sight wireless solutions unreliable. IEEE 802.22 is designed to provide more than 18 Mbps of throughput per 6 MHz TV channel at non-line of sight distances up to 20 km. TV White Space supports a wide range of current and emerging applications including commercial enterprises, education and government services, security and disaster recovery, smart power communications, environmental monitoring and industrial internet of things (IoT).
"Saankhya's TV White Space solution is a leadership demonstration of implementing the industry's robust IEEE/ISO 802.22 technical standard for Television White Spaces while complying with current regulatory frameworks," said Dr. Apurva N. Mody, Chairman of WhiteSpace Alliance. "A similar adherence to industry standards and regulations led to the adoption of Wi-Fi ® as the preferred solution for local area networks. This bodes well for the continued growth of TV White Space as an ideal platform for middle- and last mile connectivity, particularly in rural and remote areas."
"Saankhya is engaged in multiple TV White Space deployments around the world," said Saankhya Labs CEO Parag Naik. "FCC certification will enable us to rapidly bring the benefits of our technology to a wider audience of underserved users in the U.S., as well as other regions."
Saankhya Labs is currently accepting orders for its TV White Space base station and client radio products through its U.S. distributor, A5 Systems. For more information, please contact A5 Systems at admin@a5systems.com or WhiteSpace Alliance at admins@whitespacealliance.org.
About WhiteSpace Alliance
The mission of the Whitespace Alliance (http://www.whitespacealliance.org) is to promote the development, deployment and use of standards-based products and services as a means of providing broadband capabilities via WhiteSpace spectrum. By promoting the use of standards, the Alliance will enable companies to provide broadband connectivity at reasonable cost. The WSA will also act as an enabler of the emerging white spaces ecosystem by helping to put in place interoperability, conformance, and compliance testing to make sure that our member stakeholders get the needed information & collaborations to succeed both in the market place and with regulatory requirements. Interoperability specifications will allow multiple vendors to enter the market and help to reduce the costs for the consumers. WhiteSpace Alliance promotes the use of IEEE, 3GPP and IETF Standards for use in the White Spaces.
About Saankhya Labs
Saankhya Labs is a wireless communication solutions company delivering products based on its award winning, patented Software Defined Radio SoC platform. Saankhya offers a wide range of communication products for broadband, satellite and broadcast applications. With several International technology patents and unique 'chips-to-systems' expertise, Saankhya's solutions include systems for rural broadband connectivity, satellite communications modems for IoT applications and multi-standard DTV modulators and demodulators. Saankhya is building transformative solutions for convergence of broadcast and broadband networks. It's Next-Gen product portfolio comprises of 5G Broadcast Radio Heads, Mobile DTV receiver chipsets, Video off-load solutions for telecom and an alternate delivery mechanism for OTT service providers. Saankhya Labs is Headquartered in Bangalore, India. http://www.saankhyalabs.com.