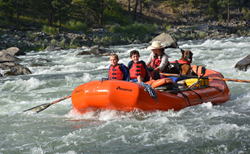 "The main issue when planning one of these vacations is deciding which company to trust for the experience," says Amie O'Shaughnessy.
San Francisco, CA (PRWEB) April 02, 2014
As the last tendrils of winter give way to spring, the 2014 rafting season is coming up fast. A family whitewater rafting trip is a special kind of expedition that lends itself to real bonding and joy. To get families ready for a whitewater adventure, Ciao Bambino has compiled a series of necessary questions all families should ask of rafting companies before trusting them with their loved ones and their vacation.
"There are rafting trips all around the world; you probably won't have too much trouble finding one near you," says Amie O'Shaughnessy of Ciao Bambino. "The main issue when planning one of these vacations is deciding which company to trust for the experience. I'm using the word "trust" intentionally here. Whitewater rafting trips involve real risk and selecting the right outfitter is incredibly important."
A rafting trip for adults is already a complicated endeavor, but with the addition of kids the decision can be a bit more daunting. Not all outfitters offer kid-friendly adventures.
"We had a phenomenal experience rafting down the Main Fork of the Salmon River with Middle Fork River Expeditions. Our fun, safety, and comfort was 100% due to the quality of our outfitter," says O'Shaughnessy.
Ciao Bambino asked James Ellsworth, the owner of Middle Fork River Expeditions and a longtime rafting expert, for his suggestions about the must-ask questions families should ask when choosing a whitewater river outfitter, and compiled his top five questions:
Top 5 Must-Ask Questions for a Family Whitewater Rafting Trip
1. How long have you been in business and what is the average number of years your guides have been guiding?
"You want to go with an outfitter who has a track record and moreover, a company that uses experienced guides," says Ellsworth. "Middle Fork River Expeditions' guide average is 15 years."
2. Do you have a kid-friendly menu?
"You typically cannot pack your own lunch on these trips, and besides, it's more fun when someone else serves you. There usually are no other options outside the food that is provided on a rafting trip, so it's important to have a selection of adult and kid-friendly fare," states Ellsworth. "Too gourmet and most kids won't touch it, too simple and the parents will be bored with the food."
3. Do your trips cater to families?
According to Ellsworth, catering to families means having kid-friendly supplies and a game bag for camp, as well as having guides who understand that kids need special attention. "A mix of younger guides is great for teenagers, and guides should be excited to organize everything from freeze tag to musical chairs, i.e. fun for kids during the time off the river."
4. Do you provide everything for the trip, including all camping gear?
"Some places offer a pretty barebones experience, which is really not ideal for a family trip," says Ellsworth. "By comparison, Middle Fork River Expeditions has extremely nice equipment, from the rafts, to the tents, to the sleeping bags. They provide everything a family could need, which makes it easy for families to participate without a long list of additional expenses. If you do plan to use sleeping bags provided by an outfitter, make sure they are washed after every trip."
5. Are your guides swiftwater rescue certified?
Adequately trained guides are a must. Visit Wilderness Rescue International for more information.
Looking for more tips to help plan your next family rafting trip or adventure vacation?
The Smart Parents Guide to Family Adventure Vacations is an excellent source for information on how and why to take an adventure trip with kids. Some of these trips are active and some just involve heading to remote destinations. Either way, our guide provides a great foundation to get the planning process started.
#
Ciao Bambino is a leading family travel brand and global family travel planning website featuring curated family-friendly hotel reviews and a comprehensive family travel blog offering tips, news, and narratives related to traveling with kids of all ages.