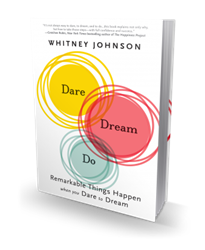 Time Out For Women is an event focused on inspiring and empowering women.
Boston, MA (PRWEB) February 05, 2014
The 2014 Time Out For Women event will be held in Layton, Utah. This is an event focused on inspiring and empowering women, a message that Whitney lives and breathes through her book, Dare, Dream, Do: Remarkable Things Happen When You Dare to Dream (Bibliomotion, May 8, 2012).
At the TOFW event, Whitney will discuss the power of dreaming; how women can disrupt their own thinking, dream big, and execute on those dreams. Whitney will also speak at the TOFW events in Long Beach, CA in March and in Cincinnati, OH in April.
About Dare, Dream, Do:
Whitney Johnson, popular Harvard Business Review blogger, has a goal: to help readers identify and achieve their dreams. Her belief is that anyone can achieve greater happiness when focusing both on their dreams and on other people in their lives. In this inspiring book, Johnson directs her attention to teaching women, in particular, a three-step model for personal advancement and happiness. She first encourages readers to DARE to boldly step out, to consider disrupting life as they know it. She then instructs how to DREAM, to give life to the possibilities, whether to start a business or run a marathon. She shows readers how to "date" their dreams and how to make space for dreams. Finally, Whitney's model brings out the businesswoman in her; she teaches readers to DO, to execute their dreams. She showcases the importance of sharing dreams and creating a "dream team." Rich with real stories of women who have dared to dream, DARE, DREAM, DO offers a practical framework to realize one's true potential.
About Whitney Johnson:
Whitney Johnson dared to dream when she began her Wall Street career as a secretary. With courage and persistence, by her forties she had risen to become an Institutional Investor-ranked sell-side analyst, president and co-founder of the investment firm Rose Park Advisors, and a regular contributor for the Harvard Business Review blogs.
Prior to co-founding Rose Park Advisors, Whitney was Merrill Lynch's Senior Telecom and Media analyst for Latin America. As a sell-side equity analyst, she developed expertise in valuing publicly traded securities and in analyzing how management can create or destroy value. Whitney was rated by Starmine as a superior stockpicker vis-a-vis her peers, and became an Institutional Investor all-star within a year of becoming an analyst — an honor she was accorded for eight consecutive years.
Her investment specialty is Mexico, where the stocks she followed accounted for roughly 40% of Mexico's market capitalization. In 2005, when Whitney left sell-side research, she had earned a coveted double-ranking in the Institutional Investor survey — #1 in Latin American media and #2 in Latin American telecoms — and was widely considered the axe on stocks under her coverage.
Whitney graduated magna cum laude with a B.A. in music from Brigham Young University, having played at the Montreux Jazz Festival with Synthesis, the university's award-winning big band. She was born in Madrid, Spain, is fluent in Spanish, and served a mission for The Church of Jesus Christ of Latter-day Saints in Montevideo, Uruguay. She currently volunteers as the director of her church's Public Affairs Committee in greater Boston.
Having invested in her own dreams, Whitney is passionate about encouraging others to take stock in theirs. She and her husband reside with their two children in Boston, Massachusetts.
More about Bibliomotion, books + media:
Bibliomotion is a book publishing house designed for the new publishing landscape. While many publishers work to retrofit old processes for new realities, Bibliomotion was founded by book-industry veterans who believe the best approach is a fresh one – one that focuses on empowering authors and serving readers above all else. Moving away from the top-down model that has dominated the publishing process for years, Bibliomotion gives each member of the team – including the author – a seat at the table from the very beginning and in doing so, work side-by-side to launch and sell the best content possible, making it available in a variety of forms.
There are no sure bets in publishing, Bibliomotion believes there is a winning formula:
Exceptional Content – selecting ideas very carefully and offer formats for all types of
Visible Authors – selecting authors with many planks on the platform, and coach them to build more
Community Building – building communities around our authors and ideas, and invite readers in
Good Will and High Touch – a spirit of close collaboration between author and publisher that translates to greater potential for our books
Fun – better be, or it's not worth doing.