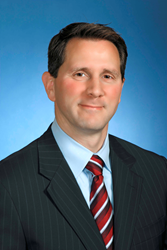 We are bringing in a new perspective that will help us create new opportunities for the company, for our team and for the customers we serve
Islandia NY (PRWEB) June 04, 2015
Whitsons Culinary Group from Islandia, NY, announced today that it appointed Paul Whitcomb, 43, as President and Chief Executive Officer. Whitcomb has worked at Whitsons for 21 years, and has held diverse positions in the company, from foodservice worker to most recently Executive Vice President, where he led his team to achieving a record volume of new clients among other accomplishments.
Along with appointing a new President and CEO, Whitsons is also redefining its corporate structure. According to Whitcomb, this will "bring in a new perspective that will help us create additional opportunities for the company, for our team and for the customers we serve. It provides a unified vision and a focused direction, that will help us to collaborate with our team members and to connect more closely with our customers."
Robert Whitcomb will lead the Prepared Meals division as Chief Operating Officer, where he will oversee the culinary team and the state-of-the-art production facilities that allow Whitsons to provide high quality meal solutions and services for their customers. Douglas Whitcomb is Chief Product Officer and will oversee all purchasing, menu development and nutrition functions. He will also focus on new product development and on harnessing the culinary team's creative talent. John Whitcomb is Chief Operating Officer of the Contract Management division. He will oversee all contract management services including School Nutrition, Corporate Dining and Residential and Healthcare Dining. Michael Whitcomb will take on a new role as Vice President of Customer Relations where he will work closely with clients and field operations to ensure customer satisfaction. Beth Bunster will continue in her role as Chief Financial Officer, focusing on managing the financial operations and ensuring a solid foundation that promotes growth and achievement of strategic goals.
Whitsons was founded in 1979 by Elmer and Gina Whitcomb and handed down to their seven sons and two daughters. Today, the Whitcomb family remains actively involved in the company's management and has been joined by an "extended family" of over 3,000 team members who share their vision and commitment to enhancing lives one meal at a time.
Whitsons Culinary Group provides a wide range of highly customized dining services to public schools, corporations and institutions, with a strong focus on nutritious, high quality menus made from fresh, wholesome ingredients. Whitsons has a long and proud history of excellence and growth since 1979 and currently ranks the 19th largest dining company in the United States (Food Management magazine, September 2014). Whitsons' scope of expertise and services extends to: emergency dining, residential and healthcare dining, prepared meals, and school dining and services.
# # #