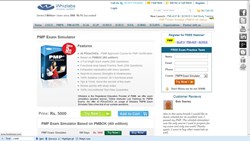 It's like a dream come true for us. This product helps the aspirants in preparing through a comprehensive study package. Also, provides completely freedom from gathering 60 PDU over a period of 3 years to maintain the course.
New York, USA (PRWEB) August 13, 2013
Whizlabs has been contributing to the growth of the IT certification industry since 2000 through its Instructor Led Training and e-Learning courses. Now, complying with PMBOK 5th Edition Whizlabs is the first company that offers 60 Contact Hours/ PDU via the usage of its e-Learning module known as PMP® Self Study Training.
Although project management is often ignored in the resourceful process— it's the DNA behind any enterprise. Efficient project management can lead a project to the horizon of its potential, creating an effort that surpasses any normal expectation. On the other hand, poor project management can stall productivity, suppress creativity, or kill a project entirely.
To ensure that the project runs smoothly and there are set rules to follow, various project management bodies have drafted well thought project management guidelines and these are used by various project managers. There are certification exams that are offered by bodies like PMI to test that the guidelines are well understood. One of the certification offered by PMI is the PMP (Project Management Professional) Certification which enables project managers to meet the complex demands of projects across the globe. PMP Test offers a comprehensive program for project practitioners of all industries and skill levels, and judges them on their understanding of the set guidelines.
After doing a thorough research and personally interviewing a large number of our customers, Whizlabs had figured out that there was a huge gap in the requirement versus offerings available to prepare for the PMP Test. Keeping all the gathered data points in mind, Whizlabs along with its authors and subject matter experts has carefully designed the new and enhanced module for PMP Online preparation known as Whizlabs PMP® Self Study Training.
Speaking on the launch of this course, Anuj Kumar Sharma, Director Product and Marketing said, "It's like a dream come true for us. This product helps the aspirants in preparing through a comprehensive study package. It also provides complete freedom from gathering 60 PDU over a period of 3 years to maintain the course. This is a high quality, economical and a very engaging product."
Whizlabs PMP® Self Study Training is aimed to help people who want to avoid going to PMP Classes for exam preparation, and do self-study at their own pace. This product is divided into two modes; one is aimed at learning and the other for testing and providing the actual exam atmosphere. These modes are respectively known as Learning and Certification Mode. The Learning Mode offers 13 full length audio-video, 600+ flash cards, detailed study notes, smart tips & tricks and topic wise quiz. On the other hand, the certification mode puts the aspirant in the exact atmosphere of the exam and tests the overall preparation level. This mode comprises of 4 full length mock tests, each having 200 questions. The questions have answers with detailed explanation to clear the concept in a better way.
Anyone who's interested in exploring to progress on the Project Management career path could start from this certification. Whizlabs PMP® Self Study Training can be of great help in concreting the concepts for the certification exam. For aspirants who are interested in PMP Online courses Whizlabs PMP® Self Study training stands to be a very good and effective study package.
Since October 2000, over 2 million users from organizations such as Cisco, Infosys, Accenture, Deloitte, RMSI, TCS, JP Morgan etc. have benefited through Whizlabs' products and services ranging from Exam Simulators, Self Study Training and Online Instructor Led Trainings.
About Whizlabs
Whizlabs is world's premier IT Certification training company and is amongst the pioneers to launch Online Products and Training for all major IT and Project Management Certification preparation.
With the mission of contributing to the growth of IT Education industry, Whizlabs helps build and nurture software professionals and project managers by its online courses and hands-on Online Instructor Led Training for various Java and PMP certification. Visit http://www.whizlabs.com to find more about Whizlabs.
For Media queries, please contact:
Alex Johnson
Sr. Business Manager, Whizlabs
Ph: +1-818-575-6625
Website: http://www.whizlabs.com