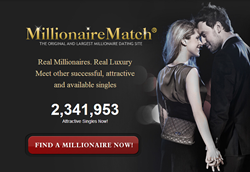 Los Angeles, California (PRWEB) April 23, 2015
MillionaireMatch.com, the world's leading online matchmaker among the world's wealthiest, most attractive singles, has released the results of a survey on the ethnicity of verified millionaire male members.
This year, white and Caucasian members scored the largest number by far, coming in at 87.8%. Next were those who identified as Asian at 2.41%, mixed race at 2.33%, and then Hipsanic/Latino at 1.58%. 2.79% of MillionaireMatch.com's verified male millionaires chose to identify as "other."
"Although we enjoy a worldwide reach with our membership, there is no doubt that the majority of our male members are from Western or European nations with traditionally higher concentrations of whites, and wealth, in the population," Brian, marketing manager with MillionaireMatch.com says. "In spite of the data, we can also confidently say we have matched countless couples through our service, regardless of their race, and that is a fact we are very proud of."
MillionaireMatch.com also ensures that the survey it conducted was done purely to gather and present objective data on its membership and for other interested parties.
"In the information age, data is key, and that is simply what we're after: data," Brian says. "Gleaning insights from surveys like this really help us understand what our next strategic moves should be as a company. We're extremely blessed to have such a responsive, active community on our site."
As MillionaireMatch.com continues to grow in membership and popularity among the world's richest people, so does the company's offerings and services. Last month, it released its iOS pro version, available for download here. The new app is loaded with new features and a very sleek, intuitive design, streamlining the matchmaking process and of course making it infinitely more convenient for its busy users.
Far from sugar daddy dating sites, MillionaireMatch.com remains fiercely focused on connecting attractive, real millionaires to partners across the world, and has been doing so for well over a decade. The service's elite clientele make up the largest collection of millionaire status CEOs, professional athletes, doctors, lawyers, investors, entrepreneurs, super models, celebrities and more who are seeking honest, long-term relationships for those serious about dating.
To start searching MillionaireMatch.com's attractive, wealthy singles, just create a free account at their website, or follow them on Facebook for a preview of the company's clientele.