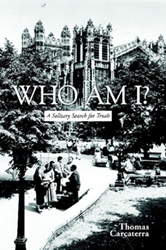 SILVER SPRING, Md. (PRWEB) January 03, 2017
"Who Am I?" (published by Lulu) chronicles Thomas Carcaterra's life, as he reflects back on where he came from and the various influences that have made him who he has become.
The main concept of "Who Am I?" is that a mixture of black and white may appear to be gray; but truth demands that they are equal and opposite. In re-examining his own life, his successes and failures, and triumphs and defeats, Carcaterra ultimately realizes all he knows came from his father.
"I decided to write this book to honor my father, who taught me everything I needed to know with two commands."
An excerpt from this book:
I now know that the word truth, like every other word, doesn't have any meaning unless other words are attached to it. There are political, religious, scientific, and many other types of truth. When Truth is used as a single word, it refers to a concept not accessible in the real world. Truth refers to God.
"I hope that a reader would consider my book is similar to having had a conversation with me. What the reader takes away from that conversation is up to the reader," Carcaterra says.
"Who Am I?"
By Thomas Carcaterra
Softcover | 6 x 9in | 130 pages | ISBN 9781483458441
E-Book | 130 pages | ISBN 9781483458458
Available at Amazon and Barnes & Noble
About the Author
Thomas Carcaterra earned a master's degree in civil engineering from the City College of New York. Now retired, he has spent a lifetime in the field of structural engineering. Carcaterra also has a passion for the arts and sciences. He currently lives in Silver Spring.
Lulu empowers people of all ages to explore and express their interests, passions and expertise through books, photography and art. Since introducing self-publishing in 2002, Lulu has empowered creators in more than 225 countries and territories to produce nearly two million publications. Lulu Jr. allows children to become published authors, encouraging creativity, strengthening literacy and building self-esteem. Picture.com offers professional photography of collegiate and professional sports, memorable and historic events, fine art and home décor. For more information, please visit lulu.com.
###