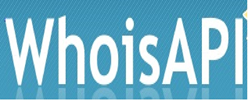 The web service from Whois API provides consistent, well-structured who is data in the formats of XML and JSON
(PRWEB) January 15, 2015
Enterprises requiring Bulk Whois Lookup / Bulk Domain Checker services can rely on Whois API LLC for super quick service. For consistent and well-structured whois data, Whois API can be relied upon. The API can fulfill the requirements of customer applications by digging out high volume and high traffic Whois lookup.
"The API never gets stuck by the limitations of the whois registrars. The service is seamless, keeping it completely hassle-free for the clients. The domain check service returns well-parsed information about domain availability in popular formats per http request that includes XML and JSON. The first 100 domain name availability looks are offered free after registering for a developer account," commented a senior executive with the company.
A query of whois database information can be developed programmatically via Java or PHP. Whois API provides a sample of Java code to understand better how to make a query to Domain Availability API web service in JAVA using Apache Http Component. There are many plug-ins that can be interfaced with the Whois API database to generate custom reports and analysis tools.
"The web service from Whois API provides consistent, well-structured who is data in the formats of XML and JSON," said the company representative. The amount of data is quite large and accessible through a whois database download. Whois API provides archived historic Whois database information in both parsed and raw format for download as a database dump. The formats of downloads come as MYSQL, MYSSQL, or CSV files. The downloaded information made available by Whois API are for the domains with the extensions com, .net, .org, .us, .biz, .mobi, .info, and others.
The online whois lookup tool has variety of possible applications and uses. Some examples include cybersecurity analysis, fraud detection, statistical research analysis, and more. The cost of whois database download is charged by individual downloads or a yearly plan that allows a full whois database download a total of four times. There are bulk discounts for up to 50% off are given with the purchase of 2 or more databases.
About The Company:
Whois API contains domain registration information that is used for reporting purposes. They have an online whois search tool that allows up to 100 free domain name searches with a registered developer account. There are different plans associated with the cost of Whois database download that is used to generate analytical reports on the domain historical information. Their Whois domain lookup service is quite impressive as well.
Contact Information:
Whois API LLC
340 S LEMON AVE #1362
WALNUT, CA 91789
Website: http://www.whoisxmlapi.com
###