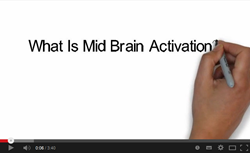 One week after the workshop, my wife was impressed with her new found "ability" to read blindfolded and increased confidence in herself.
Singapore (PRWEB) March 29, 2014
It is not always about the formal education, but also the informal one that teaches us what we are and what we can possibly do. This is the job of Genius Mind Academy, whole brain activation expert, that enriches children with greater confidence, sharper mind, dedicated focus, better memory, accelerated learning, and faster mastery.
It has now come up with various whole brain training programs that help children from Age 5 to 12 years old to activate their minds more than they actually will in their life of formal education
Genius Mind Academy believes in teaching children a lot more than they can think. It grants the whole brain training for mishaps that may happen in life and how they should be dealt. It's a saying to nip in the bud, and what could be younger than this age bracket?
First 5 to 12 years of life for any human is the best period to learn and know the life closely, as the whole upcoming life may depend on what a child has instilled in his mind. And this calls for the whole brain activation lessons. Thus, the video launched on YouTube is the complete package for a child to learn in the best way how brain can perform best.
The 3-minute video tells a lot about the functioning of brain and it is attractive enough to grab children's attention especially. It does not limit its teachings for children enrichment only, but also train the middle aged or even teenagers the most adventurous experiences of life. Like parents of Shannon Cho Sin Yee, 8, expressed on the joy which they had after their child achieved top position in her class,
"One week after the workshop, my wife was impressed with her new found "ability" to read blindfolded and increased confidence in herself. Next, we noticed significant improvement in her spoken language in Mandarin and for the first time, her grades for mother tongue surpassed the average grades.
Both of us were delighted on her "breakthrough" and happy to learn of her progress in learning – append are extract of some of the comments in her progress report book."
Parents of Shanon are extremely pleased with her reports and the academic progress she has got so quick and the brain training for children at GMA that they also say,
"As parents, we benefited from the workshop too as we were taught how to create a healthy environment to enhance our child's learning and development.
We are really happy to see the positive change in her after applying some of the techniques taught in the workshop.
Thank you GMA for bringing such a great program to Singapore!"
Another testimonial that embraces the struggles and endless efforts of GMA by Kenny Koh, Business Owner says,
"After the workshop, my memory improved. I become very alert, like a LION on the prowl. I follow my gut feel much more and procrastinate less! Tactfulness and Anger Management become amazingly easy and so natural. I now LOVE MYSELF even more because I CAN BE WHAT I WANT TO BE."
"I can convert my THOUGHTS into ACTION. I have been EMPOWERED, I am much more SATISFIED with myself, much much HAPPIER now."
Therefore, this well-balanced academic body does not only nurture people academically but also grants them the teaching of life and how to tackle the hardships. In short, it trains in subjects that have become the primary need of the modern era.
About Genius Mind Academy
Genius Mind Academy (GMA) is a multiple Award Winner of SME Asia 1 in 2011 and SMEs ASIA Awards 2013/2014, and runs an enriching workshop aimed at fostering and nurturing the multiple intelligence of a child. At GMA, we encourage a desire for learning, promote emotional and intellectual liveliness and empower children with the confidence to achieve their aspirations. Our aim is to help children develop extraordinary capabilities by drawing on the hidden human possibilities, enhance well-balanced development of the body and mind, nurture sharp sensitivity and instill rich creativity.
For more information, please visit: http://www.GeniusMindAcademy.com.sg