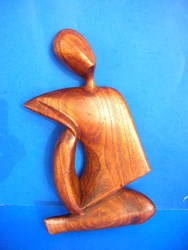 (PRWEB) August 08, 2013
Wholesalesarong.com today announces the arrival of abstract carvings from Bali, Indonesia. This latest range of abstract figurines is the latest addition to its massive wholesale home décor catalog in North America. Choices are aplenty. The common theme is intricate carvings that mimic human form, but in addition to this, there are also animal figurines in the like of dolphins, elephants, horses and some take the form of primitive statues and Buddha.
Wholesalesarong.com is one of the largest suppliers of cheap wholesale products in North America. First founded in 1996 as a wholesale outsourcing agent, it has since gown tremendous in size and enjoys extensive support and patronage from local retailers. The products from wholesalesarong.com are often associated with being decent quality at cost effective price. The company operates on a business model which allows it to outsource products effectively from low cost producers based in Asia like Indonesia and places bulk orders so that it could bring these products back to US and Canada at hugely discounted prices. In addition to its wide range home décor products, it also supplies wholesale giftware, apparel line, jewelries, watches, and general fashion accessories.
"The decorative home improvement items are always well received in the market. In the past, we are perhaps more associated to more practical home décor products like our popular garden décor or even wooden candleholder. But this shipment is a refreshing change for both our company and the retailers. We are bringing in these abstract carvings because we believe there is a market waiting to appreciate such products. A whole new generation of homeowner has come into the market and these new households are no longer content with handmade rattan chair or table. They are young and adventurous in their taste, and they are ever ready to challenge the traditional notion of what makes good home décor items. We are committed to bring rich choices to the consumers, so the new line of products would support their experimentations," announces the spokesman from wholesalesarong.com.
Indeed there is wide choice. The range of products here primarily covers couple collections, featuring a pair of human like figurines in various postures. For collectors who much fancy animal form, the catalog also includes pairs of horses, dolphins, giraffes and elephants. The catalog also features figurines appearing in singularity.
In addition to life form replica, there are also the assortment of tribal primitive statues, animal woodcarvings, Buddha Goddess figurines, masks, mirrors, home garden decors, tribal mask, lamp shape, bamboo wind chimes and boxes handmade in Bali Indonesia. For complete listing, please refer to the company online wholesale catalog at http://www.wholesalesarong.com/wholesale-homedecor.htm
Wholesalesarong.com sells its wholesale merchandises through the extensive network of retailers in US and Canada. All orders are shipped within days from its centralized warehouses. The standard delivery mode is via UPS normal ground. For addresses out of mainland US and Canada, please check with the company for alternative shipping arrangements.
Company Info:
Apparel & Sarong is a US and Canada wholesale distributor who supplies Bali arts, clothing, fashion accessories, dresses, sarong, harem pants, beach wear apparel, and musical instruments to retailers and distributors. Products include crinkle shawl wraps, neck warmers, loop warmer, pin brooch, anklets foot jewelry, organic piercing jewelry bone spiral, water buffalo horn jewelry hanging claw, Bali rayon dresses, bangle watches, vintage jewelry set, hibiscus flower sarong, discount beach cover-up, cruise wrap, skirt dress, altar cloth, Wicca pagan wall hanging, sarong Indonesian, bohemian dresses, cheap fashion clothing, casual summer dresses, Celtic hippie interlace sarong, tie dye hip hop sundress from Bali, romper jumpsuit, maxi long dress, kimono tunic dress, gypsy style clothing, bohemian maxi dress, fedora hats, top hats, caps, gloves, winter poncho, African style drums, tribal musical instruments, whistles, handheld shaker, xylophone, maracas, rattles, native drums, home decoration, handmade glass European beads jewelry finding, resin, glass and porcelain charm beads, jewelry supplies, hair fascinator, ponytail hair holder, bridal wedding headpiece, party hair accessory, prom party hairpin, belly dancing hair flowers, turquoise jewelry, hematite crystal resin disco ball beaded bracelets, rhinestone pave beads. For product details please go to their online wholesale catalog at http://www.wholesalesarong.com.