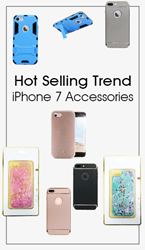 With the addition of iPhone 7 and iPhone 7 Plus accessories to our online store, we are now looking to cater to the requirements of iPhone users
New York, NY (PRWEB) October 25, 2016
HLC Wholesale Inc., the leading provider of phone accessories, security camera systems, leggings, shoes, notebooks and other products has recently announced the addition of iPhone 7 and iPhone 7 Plus accessories to its online store. The company will be offering a wide variety of premium quality and unique mobile phone accessories to iPhone 7 and iPhone 7 Plus users in the United States at highly affordable rates.
Sharing more details regarding their recent announcement, a spokesperson at HLC Wholesale Inc. stated, "HLC Wholesale has always strived hard to provide its customers with the best in class products and accessories. With the addition of iPhone 7 and iPhone 7 Plus accessories to our online store, we are now looking to cater to the requirements of iPhone users within the country. As a company, we are determined to offer quality products and our products undergo stringent quality check to ensure that they meet the requisite standards."
It must be noted that HLC Wholesale Inc. is a highly professional phone accessories and security products wholesale supplier. The company has more than a decade of manufacturing experience. The company is constantly making efforts to add quality products to their existing line of products and accessories.
As part of their latest initiative and offerings, HLC Wholesale Inc. will be providing a wide range of phone cases including Wallet Case, Full Protection case, waterproof case, Floating Glitter Heart case, Metallic hard case, 360 rotating kickstand case, Armor case, Hybrid rubber case, Clear rubber case and Case with slidable card holder. Apart from this, the company will also be offering earphones and Bluetooth headsets to iPhone 7/7 Plus users.
As the premier phone accessories supplier, HLC Wholesale offers a wide variety of accessories for Apple iPhone, iPad as well as Samsung device users. The company provides an assortment of products including chargers, VR boxes, Bluetooth speakers, Bluetooth headsets, Tempered glass and Mobile covers to mobile phone users across forty eight states in America.
HLC Wholesale also deals in advanced and high-quality security systems and surveillance products. The company was first to offer affordable electronic digital surveillance products and systems to both commercial and home users in the country. The company also manufactured HD CCTV systems and products in 2004 to deliver products that offered functionality and clarity to viewers at a highly affordable price range. HLC Wholesale has more than ten years of expertise and knowledge in the designing and manufacturing of security systems and CCTVs. Their R& D team spends a great deal of time and efforts in creating new and innovative products to meet the ever changing demands of the users of the security and surveillance products.
HLC also supplies leggings, shoes, toys, sunglasses, infant products, handbags, bedding and other products at affordable prices. For more information about the company and its products, visit http://www.hlcwholesale.com/
Contact Information
HLC Wholesale Inc
25 W 26th Street
New York, NY 10010
TEL: 212-889-2899
FAX: 212-889-2599
E-Mail: sales(at)hlcwholesale.com
Website: http://www.hlcwholesale.com