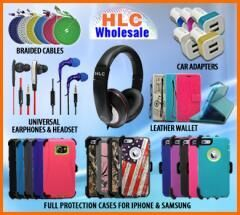 HLC Wholesale is also known with a highly reputable customer service to assist customers with their purchase. We're stocked with everything that small business or wholesalers need to grow their business.
New York, NY (PRWEB) November 30, 2015
Retailers, resellers and carriers looking for new ways to add varieties to their retail line-up have a great option. HLC Wholesale lines of cell phone accessories are available now at HLCWholesale.com. The lines include stunning earphones, headsets, bluetooth series products, cables, chargers, and beautiful cases that work universal for the always popular iPhone, Samsung and any other mobile devices.
These unique style earphones and headsets have been tested to enhance clarity with streamlined lightweight design for easy portability. They also carry a wide range of cell phone accessories and phone covers that provide superior protection for cell phones, tablets and other electronic devices. Each case is precisely engineered for the particular model of phone, with cut-outs for screens, ports and jacks enabling complete use of the device while in the case. These eye-catching cases will add a little bit of luxury to a customer's day, a touch that everyone will be able to afford.
These attractive, high-quality products practically sell themselves. Consumers will love the variety of styles, colors and designs. Cell phones and tablets accessories are available in variety colors and patterns. At the low cost to wholesalers, retailers will be able to stock up on plenty of these fabulous cell phone accessories wholesale to carry them through the busy season ahead. That low wholesale cost means retailers can pass the savings on to consumers.
HLC product lines are a valuable addition to the existing merchandise lines available at HLC Wholesale. Retailers, resellers and carriers can browse the site to view all the products, and can register to get full pricing, discount information and free shipping along with a free gift for first time customer. This is the place to go to get the best prices for cell phone accessories wholesale.
About HLC Wholesale Inc.
HLC Wholesale Inc is the leader of wholesale supplier in phone accessories and security camera. At HLC Wholesale, they are passionate about the products that they sell. HLC Wholesale continuously strives to bring the best service and most innovative products.
High quality cell phone accessories in a wide variety are available at low prices to retailers, resellers and carriers at http://www.hlcwholesale.com. Contact HLC Wholesale Inc by phone at (347) 799-2799 or by email at sales(at)hlcwholesale(dot)com to learn more about their service.