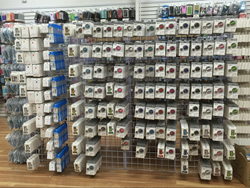 Great service each time I make a purchase for my store. I always leave HLC Wholesale with a smile and happy about doing business there
New York, NY (PRWEB) June 08, 2016
HLC Wholesale has built a stellar reputation as a wholesaler of phone accessories, security systems and other diverse innovative products.
One pretty certain rule of life is success often demands growth. In the case of leading telephone accessory wholesaler HLC Wholesale their success has been well deserved, delivering the highest level of both products and services to their businesses who used them for their wholesale priced product needs. Recently, HLC Wholesale was very pleased to announce their relocation to new and upgraded offices, warehouse space and a stunning showroom in New York, New York.
"We are very pleased with our new location, which allows us to better serve our valued customers," commented a spokesperson from HLC Wholesale. "We have upgraded showroom to 3000 SQFT, 3 additional warehouses located in basement for a total of 3000 SQFT, a 1000 SQFT office area, and it also delivers a fantastic opportunity to see the products we offer firsthand. We look forward to continuing to do our best to exceed expectations whenever and wherever possible."
According to the company, HLC Wholesale deals strictly with wholesale business only and doesn't accept any retail orders. Their catalog includes, the latest and best in phone accessories for the iPhone, Samsung and other popular models; security camera and security system products of all kinds; shoes and leggings; and much more. All products sold ship free to 48 states. Feedback for the company continues to be positive across the board.
HLC Wholesale's New Manhattan Location information is listed below:
25 W 26th Street
New York, NY 10010.
tel: 212-889-2899
fax: 212-889-2599
Armando R., from New York, New York, recently said in a five star review, "Great service each time I make a purchase for my store. I always leave HLC Wholesale with a smile and happy about doing business there."
For more information be sure to visit http://www.hlcwholesale.com