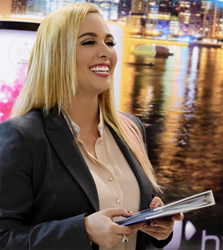 There are a million excuses for why someone can't start a business, or become an exceptional and highly valued employee," commented Lara
Miami, FL (PRWEB) October 28, 2016
In a highly-charged sociopolitical climate where some people are more concerned about what others cannot do – rather than focusing on the positive contribution they can make -- Virtual Zone stands out as an inspiring success story that vividly demonstrates the American Dream is alive, thriving, and open to anyone who is committed to hard work, integrity, service, teamwork, and innovation.
Led by its visionary founder Maria Lara, a Hispanic woman who at just 26 years of age launched the business with her brother Jorge Lara in 2009, Virtual Zone has grown dramatically over the past seven years and is now one of the world's leading wholesale distributors of cell phones, video game consoles, cameras and SD cards from Samsung, Apple, LG, Nokia, Motorola, HTC, Huawei, and other top brands. In addition to its Miami, Florida headquarters, the company serves customers across the globe through offices in Colombia, Chile, Singapore, and Dubai.
Lara credits Virtual Zone's ongoing success to what she calls a "culture of excellence," which is characterized by an unrelenting commitment to service, quality, efficiency, honesty, integrity, responsibility, commitment, and always striving to over-deliver. She also appreciates that as a Hispanic woman entrepreneur and business leader, she has a special obligation to her community and country.
"There are a million excuses for why someone can't start a business, or become an exceptional and highly valued employee," commented Lara, who personally interviews each new team member to ensure that they have the right attitude and mindset to thrive in Virtual Zone's culture. "But that's when they need to dig deep and realize that they have the potential, and the power, to be a success at whatever they're passionate about. It's my hope that the entrepreneurs and business leaders of tomorrow can look at us and say: yes, I can be a success as well, and nothing and nobody is going to stand in my way!"
More information on Virtual Zone's offerings, mission and team are available on the company's website at http://www.virtualzoneusa.com