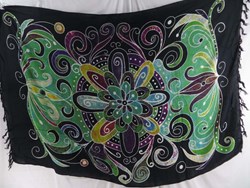 Blaine, WA (PRWEB) February 03, 2014
With the spring shopping season coming soon, Apparel & Sarong wholesalesarong.com is training its eyes on the traditional lucrative spring and summer buying spree. It today unveils a new clothing catalog that is overwhelmingly represented by hand-made sarong products from Bali.
The non-machine made sarongs cater especially to our fascination about everything natural and warm, especially after extended period living in the cold. Indeed you can find designs ranging from the smiling sun to an ever-friendly moon face, a beach utopia to lively bunch of dolphins, and more. The sarong epitomizes the simple lifestyle of an era long abandoned by the city dwellers but yet so readily embraced just the same.
Apparel and Sarong is one of the biggest wholesalers in North America. First incepted as a web wholesale supplier in 1996 that outsourced cheap products for its online customers, it has grown to become a significant player that mass import cost effective merchandize from the Far East Region for the American and Canadian market. Today, its presence is not restricted to just the web front but also includes physical warehouses to better serve its resell customers. In addition to garment products, the company also distributes wholesale jewelry, watches, scarves and a host of consumers' products.
"Sarong is perhaps the most fascinating piece of garment in our time. Look, the cutting is simple and yet we can make it into a most elaborated piece of clothing. You just have to ask the ancient Italians, Indians, Polynesians, and of course the Bali tribes how they came out with this sarong idea. In modern times, and especially in the Western context, the sarong is probably most popularly known as a bikini cover-up. Of course, technology has exerted its influence and the sarong we wear today is likely made of a lightweight fabric like rayon, and I must add that most of the modern version have fringes along; little improvisations on the original concept and idea of sarong. Nevertheless they remain relevant," introduced the wholesalesarong.com spokesman.
"It is an excellent alternative to your bathing suit. For example, you can wear it with a bikini or simply take it as a one-piece piece swimsuit. Most people tend to wear their sarong around their stomach/hip area, but there is no restriction on how you should wear your sarong, you can always refer to youtube on many fabulous ways to put up your sarong at the beach or poolside party," continued the spokesman.
The range of the shipment is indeed impressive; from fire splitting dragons to cool celtic cross, from nice beach scenery to popular personality, etc. For a full range of the latest catalog, please check out the website of http://www.wholesalesarong.com.
The company makes daily delivery via UPS ground for all its America customers. If you are located outside continental America, please check out its website for alternative shipping.
Company Info:
Apparel & Sarong is a US and Canada wholesale distributor who supplies Bali arts, clothing, fashion accessories, dresses, sarong, harem pants, beach wear apparel, and musical instruments to retailers and distributors. Products include fashionable clothing, sun hats, summer hats, fedora hats, crystal hair barrette clip, eco-friendly jewelry, hippie Rasta Jamaican jewelry, men's surf bracelets, hobo hippie sling bag, Rasta cross body tote purse, costume jewelry stainless steel earrings, square scarves, chiffon scarves, muffler bubble shawl, pendant scarves jewelry scarf, gemstone jewelry, belly dancer costumes and jewelry, horn jewelry, bone jewelry, organic ear stretchers, organic tapers and expanders, rings, bracelets, necklaces, earrings, vintage bangle cuffs costume jewelry, bone earring horn plugs, organic jewelry gauge earrings, hair sticks, vintage flower barrette hair clip, handmade glass European beads jewelry finding, porcelain ceramic charm beads jewelry supply, feather hair fascinator, ponytail hair holder, turquoise jewelry, hematite crystal resin disco ball beaded bracelets, disco ball pave beads, chandelier earrings dangle earrings, bracelet bangle cuff slave chain finger ring, garden supply and Bali handicraft. For product details, please go to their online wholesale catalog at http://www.wholesalesarong.com.