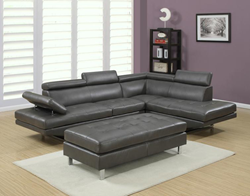 Tampa, Florida (PRWEB) November 22, 2015
This is the year to save at Furniture Distribution Center. Right after Thanksgiving all the way into the New Year, find the best prices on various wholesale furniture (http://furnituredistributioncenter.com/) sets including bedroom sets, dining room sets and living room sets.
Out with the old and in with the new at the Furniture Distribution Center. Let's be honest, finding quality furniture with super low wholesale furniture prices is nearly impossible to do. The Furniture Distribution Center makes the impossible possible in their showroom - bedroom sets for as low as $599 and microfiber sectional sofa sets with a large ottoman only $449.
The Furniture Distribution Center offers their clients the best in all home sets and places the customer first with free layaway and same day delivery. That's right, same day delivery. There is also the option for same day free pick up as well, customer's choice.
One of the most popular and newest releases for wholesale furniture prices (http://furnituredistributioncenter.com/) are on their new selection of TV stands and a brand new line of designer sofa sets in the showroom. These sofa sets stand out as they are made out of the finest livable materials including bonded leather and bella materials in 5 absolutely stunning colors. Impress the folks this holiday season while hosting and show everyone high living and pass along the secret of wholesale furniture prices at the Furniture Distribution Center.
To find out more information on the Furniture Distribution Center or to view current summer wholesale furniture prices, check out their website at http://www.furnituredistributioncenter.com.
About Furniture Distribution Center
Furniture Distribution Center is a furniture retailer that offers wholesale furniture prices (http://furnituredistributioncenter.com/) to the public. We have a small selection of top selling furniture styles at the lowest prices. We offer incredible value for quality living room, bedroom and dining room sets.
All in stock furniture can be delivered same day across West and Central Florida including Tampa Bay, Lakeland, Orlando, Bradenton, Sarasota and Ocala. Customers can visit our showroom and pickup furniture the same day. For convenience we offer phone orders 8am-midnight everyday.
Website: http://furnituredistributioncenter.com/
Email: info (at) furnituredistributioncenter (dot) com
Phone: (813) 444-9713