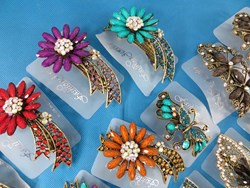 Blaine, WA (PRWEB) November 14, 2013
Wholesalesarong.com today announces that its wholesale hair accessory catalog is going to be boosted by the massive shipment of hair clips from China. The big collection of shipment brought in demonstrates the company's ambition to further consolidate its market leading position in the wholesale distribution trade in the competitive US wholesale market. The choices made available are huge, from the classic metal hair clip to antique style retro vintage hair clips with crystal rhinestone and faux gems. The richness of choices here would make consumers happy this holiday season.
Wholesalesarong.com is the leader in wholesale distribution of cheap and quality products in America and Canada. The company focuses on product outsourcing; by going to low cost yet quality producers in Far East and bringing them in bulk back to North American consumers. More than just hair accessories products, the company is also a major distributor of wholesale jewelry, apparel, watches, sunshades, home décor products, novelty items and general fashion accessories.
"It is amazing, isn't it? When you consider a hair clip is just simply a clasp for holding hair in place. But I can tell you it is huge business. Then again when you think about consumerism and mass market, then this can be a business that can make really make some neat profits. This is the main reason we urge our retailers to check out the full range of hair clips from our website, you don't want to miss the boat," says the spokesman of wholesalesarong.com.
"The clips or barrettes that we brought in this time consists of both metal and plastic, and some of the models actually feature decorative fabric, so we are offering the market an amazing choice here. And depending on where you fancy to put these clips on, we also offer variety in sizes, of course with small ones used at the front and large ones in the back to hold more hair," added the spokesman. For more information about the new hair accessories, please visit http://www.wholesalesarong.com/wholesale-hair-accessory.htm.
Wholesalesarong.com arranges daily delivery from its centralized warehouses. The standard transport mode to continental US and Canada retailers is via UPS normal ground. For retailers with addresses outside mainland America, please check out the company website for shipping details.
Company Info:
http://www.wholesalesarong.com Apparel & Sarong is a US and Canada wholesale distributor supplies Bali arts, clothing, fashion accessory, jewelry, dresses, sarong beach wear apparel, musical instruments to retailers and distributors. Products include cheap wholesale clothing plus sized dresses, swimsuit cover up sarong, scarf, shawl, halter sundress, summer fashion tops for plus size women, handkerchief hem dress, Kimono summer dress, Hawaiian tropical women's sun dress, casual dress, Kimono caftan, maxi dress, bohemian dress, hippie apparel, batik garment, mini skirt, pants, dancing wear, didgeridoo, djembe drum, semi-precious gemstone stone jewelry, costume jewelry, sterling silver pendant, charm, earring, bracelet, necklace, natural organic jewelry, body jewelry, anklet foot jewelry, toe rings, foot wear jewelry, fashion accessory, handbag, barrette hair clip, hair accessory, affirmation banner, bedcover, bangle watch, pocket watch, home decoration, garden supply and Bali handicraft. For product details please go to their online wholesale catalog here.