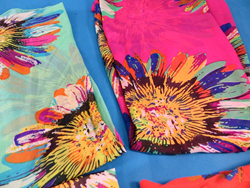 Blaine, Washington (PRWEB) March 18, 2014
Wholesale and Apparel today confirms the arrival of its new chiffon scarf. In anticipation of a busy shopping season, the company has boosted its catalog of wholesale clothing range in continental America. The choice is impressive; from mono color to poker dots, animal pattern to floral prints. The material used is polyester to ensure the comfort factor for the wearers. Wholesalesarong.com continues its tradition of outsourcing products from the east so that the products remain cost effective while ensuring decent quality.
First started in 1996, Wholesalesarong.com today is the leading apparel distributor in continental America. All merchandizes are priced in local currency and all deliveries come off its centralized warehouses. So while retailers enjoy the cheap pricing from low labor and material costs of the Far East, they need not have to worry about fluctuation in foreign exchange, and it is so much easier to track shipping when it is on UPS ground rather than overseas freight. More than just apparel products, wholesalesarong.com is also the leading distributor in wholesale jewelry, home decor, Bali arts and crafts, watches, other fashion accessories and novelty items.
"What we have here represent an interesting mix. Our first priority is to always make sure that our garment would be comfortable to wear, so the consumers would be glad to know that these garments are made of polyester, as the material is right up there with cotton when it comes to provide comfort to the wearers. And there are plenty of choices; users have lots of options on color selection, designs patterns and cuttings. And of course you can count on us to have products that would appeal to a wide variety of fashion senses. Consumers can choose from the simple poker dot patterns to the more elaborated flower designs, and a mind boggling of fashions in between. You can wear it as a normal scarf, sure enough, but you can also use them as a sarong, or a hip wrap miniskirt beach cover up," said the company spokesman.
Wholesalesarong.com has always been known for its extensive line of garment products. The catalog features a wide variety of models and various designs. There is an excellent choice of Far East made lady's dresses here, from lounger wear to scarf, to caftan, sundresses, short and long dress and shirt dresses.
Company Info:
Apparel & Sarong is a US and Canada wholesale distributor supplies Bali arts, clothing, fashion accessory, jewelry, dresses, sarong beach wear apparel, musical instruments to retailers and distributors. Their products include Bali Indonesian pareo, Celtic sarong, tie dye sarong, African kanga, Lava-Lava, pashmina shawls, polyester scarf, infinitive scarf, lightweight beach wrap magic scarf shawls, yarn knitting scarf, neck warmer, wrinkled scarf muffler, cheap thermal scarf, plaid checker evening wraps, punk clothing halter sundress, handkerchief hem dress, Kimono summer dress, Hawaiian tropical women's sun dress, casual dress, halter top beach dresses, handmade crochet clothing, mini skirts, plus size clothing caftan, pants, dancing wear, sundresses, poncho, Caribbean printed Aloha Hawaiian shirt, musical instrument didgeridoo, rainstick, djembe drum, rattle, shaker, maracas, thumb piano, semi-precious stone jewelry, organic jewelry, pendant, charm, earring, bracelet, necklace, silver jewelry, gemstone ring, fashion accessories, jewelry scarf necklace, handbag, barrette hair clip, hair accessory, affirmation banner, bedcover, fashion watch, pocket watch, body piercing jewelry, home decorations, garden supply and Bali handicrafts. More information can be found on their website: http://www.wholesalsarong.com.