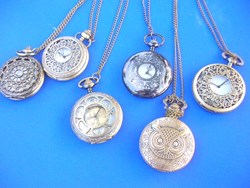 (PRWEB) October 10, 2013
Today, Wholesalesarong.com unveils that it is banking on its latest import of cheap China made men pocket watches to lead its charge in the competitive US wholesale market. The latest import is yet another move from the company to show its intent to consolidate its market leadership position n the US/Canada wholesale watch sector. The latest shipment carries an assortment of designs, from the rustic looking bronze cover pocket watch to more retro style alternatives.
In 1996, wholesalesarong.com started operation as a web based outsource partner to a number of web savvy retailers to import cheap yet decent quality products in limited amount from Asia like China and Indonesia. Today the company is regarded as the largest wholesale supplier of wholesale gift items, novelty products, jewelry, clothing, and watches. Instead of relying solely on the website to administer its business, the company is also helped by the physical offices and warehouses located strategically in North America. This has benefited wholesalesarong.com hugely as the presence has helped the owner and its customers to have more control on the supply chain and ease price pressure. The saving from efficient supply chain is passed on to retailers as the company believes these customers must be able to retain a decent profit at the end of the sale.
"The pocket watch has come a long way. First developed in the 16th century, it has survived the test of time, judging by its continued presence in modern world, especially since the emergence of the threat of wrist watch. The physical form does not take a drastic transformation during this time, that I think is what makes pocket watch still so alluring these days. People simply like the rustic old look, and reminiscent about good old days, I think. The features have also been the same, a chain hooked to the pocket watch and you secure it to the waistcoat, lapel or belt loop. The protective cover, usually made of bronze, protects the watch face from scratches," the wholesalesarong.com spokesman starts with a product introduction, explaining the anatomy of the watch.
Indeed the physical appearance may stay the same throughout these years, but there is no stopping on human ingenuity to apply the final touch. The samples on display here show off models with different material choices, color coatings and pendant designs. For a full listing, check out the wholesalessarong.com website.
Wholesalesarong.com delivers all orders within 3-5 days. The delivery mode is standard UPS ground. For retailers outside U.S. and Canada please check the website for alternative shipping modes.
Company info:
Apparel & Sarong is a US and Canada wholesale distributor who supplies Bali arts, clothing, fashion accessories, dresses, and sarong beach wear apparel, and musical instruments to retailers and distributors. Products include cheap wholesale clothing, dresses, swimsuit cover up sarong, scarf, shawl, halter sundress, summer fashion tops, Kimono caftan, maxi dress, bohemian dress, hippie apparel, batik garment, mini skirt, pants, dancing wear, pashmina shawls, polyester scarf, infinitive scarf, chiffon scarf, double pendant jewelry scarf necklace, lightweight beach wrap, didgeridoo, African style drum, semi-precious, costume jewelry, sterling silver pendant, horn earring, bone ear plug, wood expander, organic body jewelry, plugs earring, charm, seashell earring, bracelet, necklace, natural organic jewelry, body jewelry, toe rings, fashion accessory, handbag, barrette hair clip, hair accessory, affirmation banner, bed cover, bangle watch, pocket watch, home decoration, beach sun hats, garden supply and Bali handicraft. For product details please go to their online wholesale catalog at http://www.wholesalesarong.com.