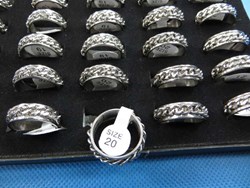 Blaine, WA (PRWEB) August 26, 2013
Wholesalesarong.com today unveils that it has stocked up a new line of wholesale stainless steel rings, gearing itself for the busy summer shopping season in North America. This latest shipment also carries a great deal of other stainless steel jewelry products, e.g. stainless steel earrings, stainless steel necklaces, stainless steel necklaces and stainless steel bangles. A company spokesman stresses that this latest import of stainless steel jewelry would further consolidate its market leadership position in the wholesale fashion jewelry market in US and Canada.
Wholesalesarong.com is the largest America based wholesale distributor in both US and Canada. It excels in products outsourcing, buying in bulk from low cost producers in the Far East and bringing them back to continental America. Wholesalesarong.com is also a major player in wholesale distribution of wholesale garment products, fashion accessories, sunglasses, watches and other novelty items in the US/Canada market.
"When it comes to manufacturing, the center of gravity now is in Asia, especially China. So our strategy to outsource products from Far East makes sense in the wholesale trade is spot on as it is difficult to be competitive against these low cost manufacturers there. What is also noteworthy about these manufacturers is that they have picked up modern manufacturing process, and there is now better consistency in the quality of their products, thus achieving both price competitiveness and decent quality control," explained the company spokesman.
"By establishing our physical presence here, we can play lead role in the entire supply chain. On one end, we talk with our Chinese partners directly and in this way exercise some control about production/shipment schedule after these products come good in term of quality. And having warehouses in America makes it easy for us to stock up items and have them ready for delivery, so retailers can now work on more predictable delivery lead time. This allows them to fill their shelves on a timely manner, instead of sacrificing spaces for stocks," says the spokesman.
Other than stainless steel jewelry, wholesalesarong.com boasts of the most comprehensive jewelry catalog in the market. Among the products in this category include the ubiquitous Celtic themed earrings, enamel 925 silver lever back earrings, assorted tiger eye sterling silver pendants, crystal jewelry, gemstone jewelry (made of organic seashell and semi-precious stones), bronze rings, etc. For a complete listing of the products, please check out the website http://www.wholesalesarong.com.
Company Info:
Apparel & Sarong is a US and Canada wholesale distributor who supplies Bali arts, clothing, fashion accessories, dresses, sarong, harem pants, beach wear apparel, and musical instruments to retailers and distributors. Products include discount fashion watch, natural shell jewelry, semi-precious gemstone pendants, mother of pearl shell, bridal jewelry, rhinestone retro vintage wide cuff bracelet, animal jewelry and giftware, harmony dream chime, Buddha statues, floral and abstract oil paintings on canvas, binocular telescopes, hand-carved wooden chess sets, boomerang, key chains, key rings, boomerang, summer beach hat, fedora gangster hats, straw hats, dream catcher, chiffon silk shawls, polyester scarf, infinitive sc arf, chiffon scarf, bracelets necklaces jewelry, baggy pants, harem trousers, shawls and wraps, dresses skirts, home accents, living room decorations, kitchenware, handmade arts, abstract carvings, jewelry boxes, Indonesian handmade gift items, sterling silver jewelry, sunglasses, necklaces chokers neck cuffs, pendants charms necklaces, home decoration, caps and hats, garden supply and Bali handicraft. For product details please go to their online wholesale catalog at http://www.wholesalesarong.com.