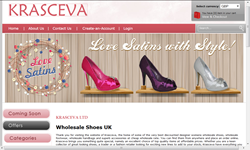 We sell just about any footwear you can think of, from boots to girls shoes, sandals, flats, pumps, shoes and wedges.
Berkshire, UK (PRWEB) January 07, 2015
Krasceva is the best wholesale supplier and online retail outlet for wholesale shoes, footwear, handbags and accessories available at prices that don't dent the pocket. From collectors to traders or fashion buyers and retail experts, Krasceva has something for everyone. This well known wholesale supplier is an excellent choice for those who want to add new products to their stock at prices that are perfect for making huge cost savings. This is why Krasceva is the leading wholesaler, distributor and importer of footwear and handbags in all of the UK.
An executive from this well known online store says, "We sell just about any footwear you can think of, from boots to girls shoes, sandals, flats, pumps, shoes and wedges. We offer every conceivable colour, shape and design. When it comes to shoes, we even specialise in bridal and lace with a bridal range of touch ups apart from scintillating sandals. When it comes to handbags, satin handbags, Diamante handbags as well as matching handbags with shoes. In short, you name it and we have got it."
Ease of making the purchase is only one reason why Krasceva products are highly sought after. When it comes to special offers and promos, Krasceva does not lag behind. As many as 47 special offers are available for footwear and handbags. When it comes to boots, the 6 special offers are on model B40126 which is an amazing pair of blue boots deep and dark in colour, along with the B40143 which is silver white and of an amazing shade and sturdy built.
Adds the executive, "When it comes to pumps and high heels, we have every conceivable shape, colour and size and specials include wonderful models such as the S300265, S300269 and the S30108. We also offer sense of style and affordability in one go. From heels to wedges, we offer special discounts on every type of footwear. 4 specials are on display at our well organised and user-friendly website, for ladies looking for wedge heels. These comprise the following models: S30259, H20178, S30252, and S30305."
From wedding to bridesmaid shoes, Krasceva offers special discounts on just about everything. The shoes and handbags sold by this well known wholesale shoe supplier posses the same quality as their more expensive counterparts. If clients want to pay less and get more, they should definitely choose Krasceva. The Touch Up Collection is a red hot favourite for brides worldwide. This well known wholesaler offers nearly 70 different types of handbags to choose from at hugely discounted and affordable prices. Choose from satin to diamante studded handbags for a truly stunning effect. Free delivery is offered within the UK. This reputed wholesalers of footwear in the UK is also known for its stunning range of handbags.
About Krasceva:
Krasceva is a UK based wholesale supplier, retail store and distributor. The importer and distributor of quality handbags and wholesale women shoes is the top choice for women worldwide and this is why retailers buy bulk orders from this reputed online store. As a wholesaler, Krasceva is known for its affordable range of prices. Apart from special promotional offers, Krasceva also offers secure payment gateways to clients worldwide plus free home delivery within the home nation. For stylish wholesale women's shoes in the UK, no one can outstep Krasceva.
Contact Details
17 Willow Road
Colnbrook, Slough, Berkshire
SL3 0BS
By Telephone (0)1753201219
By Email: info@krasceva.co.uk
Website: http://www.krasceva.co.uk/
###