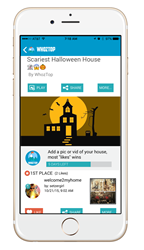 WhozTop app makes it super easy for anyone to create and share competitions in seconds straight from your phone, zero admin, just lots of fun.
Saratoga, CA (PRWEB) October 28, 2015
Launching today WhozTop is a new social media app for user created competitions. The WhozTop app allows users to create, share and take part in competitions on anything they choose, in seconds. Available for iOS and Android.
If anyone wants to find out "Who has the best Halloween costume?" at their party or "Who has the Scariest Halloween House?" in the country, WhozTop is the easiest way to set up a competition to find out.
The WhozTop app offers a new solution to a problem many people face. Having a fun competition with friends, at school, the office, at an event or convention is a great idea until someone has to become the organizer, no one wants that job.
That someone has to collect results, review them, send out updates and track things in a spreadsheet or on a whiteboard, all creating a lot of work and admin headache.
With the release of the WhozTop app now anyone can create, share or take part in competitions on anything in seconds. Users just set the basic rules and share the competition with their friends via text, email, Facebook, or Twitter. Everyone installs the WhozTop app to enter their own results; they can include photos or videos with their entries as proof of their claims or just for extra fun.
A live leaderboard for each competition is automatically created and real-time updates are sent to all competition participants as new results are added and rankings change.
Competitions can be based on anything where results are numerical for example, time, points, lbs, most or least of anything the user wishes to define. Competitions can also be based on "Likes" allowing users to vote to find a winner.
Competitions based on "Likes" are great for photo competitions such as, "Who Has the Scariest Halloween House", "Best Selfie", "Cutest Pet" etc. They can also be used to get feedback on things such as "What is the Best Idea", "Who Do We Want for Class President" or even "Who Do We Want for POTUS"
Matt Foster co-founder and CEO states, "Competitions are lots of fun, they take place everywhere all the time and can be really entertaining and motivating for everyone involved. The issue is that organizing competitions is a real pain. I encountered this problem first hand, after researching the market and realizing there wasn't a solution available Scot Malloy my co-founder and I decided to do it ourselves. We built the WhozTop app to make competitions easy, automated and for WhozTop to be the go-to place for them."
Foster further states "We have been really encouraged with the positive feedback from our beta testing users and are now excited to launch the WhozTop app to all iOS and Android users. Our mission is to make it simple for everyone to compete or compare anything and have fun. Competitions can be motivating, entertaining and inspiring, we want to make them easy to run and fun to be in."
WhozTop app is available free to all users, including consumers, businesses, brands, sports teams, schools and colleges, conventions and events, in fact anyone who wants to run or be in a competition.
WhozTop was founded in 2015 by Matt Foster and Scot Malloy
The WhozTop name is a mashup of "who's top?" a question asked regularly by Matt's daughters during the competition which sparked the creation of WhozTop, more info on that here