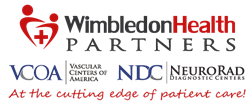 Boca Raton, FL (PRWEB) September 24, 2014
Did you know that Peripheral Arterial Disease (PAD) affects between 12 and 20 million people in the United States alone? However, less than five percent of those patients have been diagnosed because many do not experience symptoms until the disease process is far advanced. Failure to treat PAD may lead to serious - and sometimes fatal - complications such as stroke, aneurysm rupture, limb loss and even death.
The Vascular Centers of America (VCOA) is proud to initiate the on-site testing program, to identify those at risk of stroke, aneurysm and PAD. VCOA, in partnership with Wimbledon Health Partners national Affiliates, are taking action to educate and test patients at risk so they are aware of their vascular profile. Patients over the age of 50 with a history of smoking, heart disease, diabetes and a family history of vascular disease are among the highest at risk of developing PAD.
Through Wimbledon Health Partners national Affiliates, patients will be assessed and scheduled for a simple, painless, non-invasive exam at their office location which includes tests for carotid occlusive disease and stroke risk; aneurysm disease of the abdominal aorta and risk of rupture; and PAD.
Wimbledon Health Partners and its Affiliates strive to provide patients the opportunity to "know their numbers" and increase awareness, so they can learn about their condition and develop a better understanding of PAD – which in turn saves not only their lives, but also the lives of family members and loved ones.
About Wimbledon Health Partners
Wimbledon Health Partners is a national on-site diagnostic testing organization with capabilities for diagnosing circulatory conditions that can be detected through the use of cardiovascular ultrasound and echocardiogram. Additional capabilities include nerve conduction velocity testing (NCV), which is utilized to support the diagnosis of nerve involvement of circulatory disease, and help assess cardiovascular risk. Wimbledon Health Partners provides an innovative cooperative marketing and practice-enhancement program to physicians with the educational, compliance, and marketing tools necessary to deliver quality state-of-the-art in-office testing procedures. For more information, visit http://www.dxtesting.com or call (855) 200-8262.