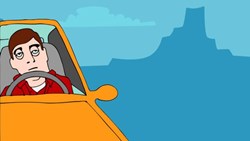 Seattle, WA (PRWEB) December 07, 2013
In today's busy, always-on society, sleep often loses priority to work, fun, responsibilities and stress. As a result, sleep loss in America has reached epidemic proportions, with estimates that between 30% and 60% of adults regularly do not get enough rest. A lack of sleep can have numerous side effects, from contributing to disease and illness as well as causing physical tiredness, moodiness and reducing mental performance.
One area where epidemic sleepiness is particularly concerning is on the road, with dangers of drowsy driving gaining greater awareness in recent years. Mattress Journal, a news blog on bed and sleep subjects, recently released an article on the subject, titled "Why Drowsy Driving is a Big Deal". The website aims to highlight the scope of the issue, while underscoring the importance of increasing awareness and offering preventing tips.
Many people understand that drowsy driving can be dangerous, but what is not as widely known is that driving tired is just as dangerous as driving drunk and that being exhausted decreases one's ability to react and make decisions, as Mattress Journal explains in the article. To illustrate why drowsy driving is a significant problem, the article presents statistics and findings from expert research sources including the Centers for Disease Control (CDC), the National Road Safety Foundation, and the National Sleep Foundation (NSF).
A few of the more interesting findings include the proportion of the population that drives drowsy, the extent of the risk and damage, and the groups most likely to engage in the behavior. In a CDC survey, over 4% of respondents between the ages of 18 and 44 admitted to nodding off while driving in the previous month, and in an NSF poll, 60% of adults admitted to drowsy driving in the past year. Age and gender play a role as well, with people aged 18-29 being the most likely to drive drowsy. The article highlights that this issue is particularly significant for younger drivers, as people under 25 account for over half of all fatal accidents linked to drowsy driving.
The reason Mattress Journal chose to write on the subject is that the high number of drowsy drivers on the road creates a big problem, for the tired drivers and for everyone else. The National Highway Traffic Safety Administration attributes a staggering minimum of 100,000 traffic accidents, 71,000 injuries, 1,550 deaths, and $12 billion in per year to drowsy driving, numbers which are believed to be fairly modest estimates.
Most importantly, Mattress Journal highlights that accidents caused by drowsy driving are ultimately preventable - drivers simply need to ensure they get adequate rest, and avoid risking it on the road when signs of drowsiness are present. Based on AAA data, the risk of drowsy driving accidents increases significantly as sleep decreases, with people getting less than 4 hours per night at the highest risk. Teens who sleep less than 8 hours per night also experience 33% more accidents than those who sleep more.
Tips for preventing drowsy driving conclude the article, based on data from safety organizations and healthy sleep hygiene practices. Getting sufficient sleep remains paramount, with at least 7 hours for adults and 9 hours for teens regarded as optimal. Discussing dangers with teens, learning signs of being too tired to drive, and tips for staying alert while driving are also mentioned. Mattress Journal links also links to several useful sources of information including videos geared towards teen education for those interested in learning more.
MattressJournal.com offers the latest bed news and mattress reviews to help shoppers research purchases and get the best sleep possible. Through careful, independent analysis of mattress types, brands, and sleep research, the blog offers expert opinions in readable, relatable format. With a focus on making the buying process simpler, Mattress Journal proves a valuable resource for consumers.