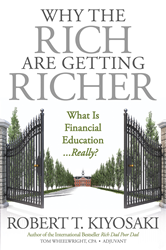 If you want to be rich, you must have a CPA who's as smart as Tom (Wheelwright)… Tom is the smartest, brightest, most diligent CPA I have ever met. ~ Robert Kiyosaki ("Rich Dad Poor Dad")
Phoenix, Arizona (PRWEB) July 25, 2017
As part of an overall Rich Dad mission to "increase the financial literacy of the world," Robert Kiyosaki("Rich Dad Poor Dad") announces the official release of a new book, "Why The Rich Are Getting Richer" with Tax Expert, Author ("Tax-Free Wealth"), CEO of ProVision and Rich Dad Advisor Tom Wheelwright as the only Contributor. And because an understanding of debt and taxes can make an individual rich, every chapter includes invaluable "Tax Lessons from Tom."
"Why The Rich Are Getting Richer" is written as the "graduate school" version of "Rich Dad Poor Dad" that is celebrating its 20-year anniversary as the number one personal finance book in the world. Kiyosaki explains why it is now "obsolete advice" to "go to school, save money, get out of debt, and invest for the long-term in the stock market," and why a real financial education is a must if people hope to succeed today.
In this new book, Robert Kiyosaki explains why Tom Wheelwright was selected as the Contributor: "Tom is both courageous and smart. If you want to be rich, you must have a CPA who's as smart as Tom… Tom is the smartest, brightest, most diligent CPA I have ever met."
In the "Tax Lessons from Tom" tips, Wheelwright emphasizes, "Taxes are not intended to punish people. They are intended to reward those who do what the government wants them to do."
Kiyosaki adds; "It is estimated that for every dollar a person spends, 80% goes directly or indirectly to some kind of tax… and back to the government." There are "taxes upon taxes," and with the right strategy and financial education, a person can save millions over a lifetime.
One of the most important concepts Robert Kiyosaki and Tom Wheelwright emphasize in this new book is how the rich use good debt versus bad debt:

Bad Debt is credit card debt used to purchase goods and services (shoes, TVs), where the individual often pays only the minimum payment every month.
Good Debt is debt that's invested in assets that deliver positive cash flow. For example, if an investor buys a real estate property where the monthly rent exceeds the total monthly expenses, the investment is cash flow positive.
"Why The Rich Are Getting Richer" explains how cash-flow millionaires, business owners and investors have the most control over taxes and their financial future. Kiyosaki and Wheelwright also expand on why the "American Dream" of a good job with a retirement plan is dead, provide an in-depth look at the financial history of the United States, and emphasize how a financial education can provide a path to a financially-free future.
Media Contact
Liz Kelly, Goody PR, 310-987-7207
About TOM WHEELWRIGHT
Tom Wheelwright is a leading wealth and tax expert, Best-Selling Author ("Tax-Free Wealth"), Entrepreneur Magazine Contributor, and CEO of ProVision (Tempe, Arizona). Tom is best known for making taxes fun, easy and understandable, and specializes in helping entrepreneurs and investors build wealth through practical and strategic ways that permanently reduce taxes. Tom received his Masters of Professional Accounting degree from the University of Texas at Austin with a specialty in taxation. After graduation, Tom worked for Ernst & Whinney in Salt Lake City, Utah. After two years, Tom was invited to join their National Tax Department in Washington D.C., where he worked during the last major tax reform of 1986. Tom's role was to create and teach thousands of CPAs throughout the United States how to handle complex tax issues for the firms entrepreneurial, real estate and oil and gas clientele. As a Rich Dad Advisor to Robert Kiyosaki, Tom frequently speaks at conferences worldwide on these topics. His work has been featured in Forbes, Accounting Today, Investor's Business Daily, Consumer Reports, and on FOX News, FOX & Friends, CBS 5 News Phoenix, ABC News Radio, NPR, and many more media. Tom is also a Contributor to "Why The Rich Are Getting Richer" and "More Important Than Money, An Entrepreneur's Team." http://www.taxfreewealthadvisor.com
About ROBERT T. KIYOSAKI
Best known as the author of Rich Dad Poor Dad —the #1 personal finance book of all time—Robert T. Kiyosaki has challenged and changed the way tens of millions of people around the world think about money. He is an entrepreneur, educator, and investor who believes that everyone has the power to makes changes in their lives if they are willing to invest in themselves and their education. With perspectives on money and investing that often contradict conventional wisdom, Robert has earned an international reputation for straight talk, irreverence, and courage and has become a passionate and outspoken advocate for financial education. He is the author of more than 20 books, the most recent of which are "Second Chance" and "More Important Than Money, An Entrepreneur's Team" (2017). Order "Why The Rich Are Getting Richer" (2017) on Amazon here bit.ly/2rTisO6WTRAGR