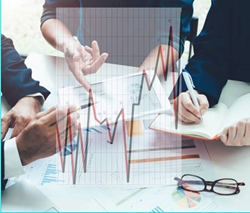 In the six months following the Executive Booster training, Gordon's patient visits increased by 77 percent. "We're thriving and building the practice."
CLEARWATER, Fla. (PRWEB) February 20, 2020
Ulan Nutritional Systems, a company delivering clinical and practice management training to chiropractors, nutritionists and other alternative health care practitioners, is addressing what many practitioners see as their biggest challenge—the business of healthcare.
Most practitioners who enter the health care profession do so with the purpose of helping people solve their health problems. They spend years getting trained in their chosen field, but they receive very little preparation or training on how to run a successful practice.
Any practice has all the facets and requirements of any other business. Even a solo practitioner working in a home office must do marketing, patient management, administration, and financial management.
For those practitioners who have the vision to reach a wider community and help change the healthcare paradigm, expansion is a must. When one location turns into two or more, business acumen becomes an essential skill.
One of the training programs Ulan Nutritional Systems offers is the Executive Booster.
This program is designed to take you from practitioner to owner and Practice Manager. The modules give you clarity on how each area of your practice should operate, what each area should be producing, and exactly what you need to do as the CEO to manage and expand the practice.
A practicing chiropractor for 33 years, Dr. Lisa Gordon discovered Nutrition Response Testing® and came to Ulan Nutritional Systems for training. She has most recently practiced in a home office in Columbia, MD for eight years.
"I knew I needed to grow if I wanted to reach my goals," says Gordon. "But I was not sure how to go about it. I didn't know how to be a boss and grow my practice."
Gordon had thought about expanding many times, but she always succumbed to the objections – too expensive, can't afford it, not the right time.
"I realized it was a lack of knowledge and the confidence to do the job of running an expanding practice that was holding me back," says Gordon. "I took the plunge and enrolled in the Executive Booster program. I also brought my one employee with me to do the Patient Management Workshop, so she'd have the tools to do her job better."
In the six months following the training, Gordon's patient visits increased by 77 percent. "We're thriving and building the practice," says Gordon.
And the dream is finally becoming a reality – in less than a month they move into a new space with five treatment rooms. "My purpose has gotten huge," explains Gordon. "Since the Executive Booster and with the support of Ulan Nutritional Systems, everything has fallen into place. It just feels right. I'm excited about finally achieving my dreams. I have no anxiety or negative feelings about this move. Now that I have the skills and confidence, and I can already see the results in the growth of the practice, I'm willing to take it on."
About Ulan Nutritional Systems, Inc.
Ulan Nutritional Systems, Inc. was founded in 2005 by Dr. Freddie Ulan. After his discoveries in the field of nutrition, he overcame a severe physical illness. He started receiving more and more demand from health care practitioners to train them on his methods. The company has trained thousands of practitioners nationwide in Dr. Ulan's methods, and now offers not only training in Nutrition Response Testing, but also patient management, practice management, and personal development.