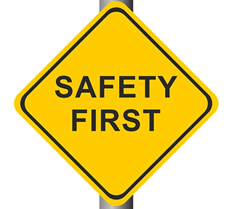 Propane tanks are 20 times more resistant to puncture than other kinds of fuel storage tanks, but when damage happens it can still be dangerous.
SALINAS, Calif. (PRWEB) August 08, 2022
There's much more to installing a propane tank that simply delivering it and connecting the gas lines. Where it's installed and how it's secured are two of the top considerations and the professionals from Wildhorse Propane & Appliances, the propane company serving Salinas and other communities on California's Central Coast, have some advice about the proper installation.
Propane is stored under pressure and as long as the tank, pipes and connections are not compromised in any way, there is no problem. Propane tanks are very sturdy, being 20 times more resistant to puncture than other kinds of fuel storage tanks, but when something happens to damage the tank, or the connections or pipes, it can still be dangerous.
Safely installing a propane tank involves:

Locating the propane tank where it is easily accessible for delivery. Needing to open a gate to drive close enough to the tank is one thing. Having to drive a large propane truck through an obstacle course of parked vehicles, landscaping, sheds, and out buildings complicates the delivery.
On the same note, avoid locating the propane tank where it will be in the path of vehicles and farm equipment.
The tank also needs to be located at a safe distance from structures in the event of a fire or earthquake damaging the tank.
It's also helpful to position the tank so there is a good 10 to 12-foot clearance that is easy to keep clear of weeds, shrubbery, trees, and electrical posts. Even a small grass fire can be hazardous near the propane tank. A storm or earthquake could possibly dislodge trees or posts causing them to fall on or near the tank, potentially damaging the tank and gas pipes.
Securing and anchoring the tank is also important. A heavy rainstorm can soften the ground causing a heavy tank to shift and sink. An earthquake can also cause an unsecured tank to shift and break pipes and loosen connections.
Making sure all of the connections are tight and secure and that the propane flows where it is supposed to go, with no leaks.
The Salinas propane experts from Wildhorse Propane & Appliances can help determine the best location for the tank. The team will also determine how to best secure that tank. This may involve creating safe, sturdy platform to which the tank can be secured to help prevent shifting or sinking. Any potential shifting of the tank can loosen or break pipes and connections causing a hazardous gas leak.
The team makes sure all of the connections are secure and the system is working and is trouble free. One of the last things to happen after filling the tank and leaving is to go over propane safety to make sure the resident or business owner knows how to:
Read the gauges and to know when it's time to order a delivery
Locate and operate the main shut-off valve in the event of an emergency
Set up a regular delivery schedule to avoid running out of propane
The Salinas propane team is also available to troubleshoot and repair the propane system in the aftermath of an emergency. The family-owned business has been supporting the propane needs of communities in Monterey, San Luis Obispo, and parts of Santa Cruz counties since 1980 and is a full-service propane supplier. Services include propane delivery, propane tank sales, and rentals, propane tank installation, installing new underground gas lines, and appliance sales offering leading brands of household appliances including stoves, hot water heaters, refrigerators, and washers, dryers, and more.
Wildhorse Propane & Appliances takes pride in fair prices, excellent service, and timely deliveries and are dedicated to the safety of the propane tank and gas supply.
Wildhorse Propane & Appliances
50557 Wildhorse Road
King City CA, 93930
(831) 385-4827