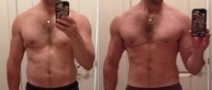 Randy Johnson has lost quite a few pounds with this combination of supplements.
(PRWEB) July 22, 2014
People are busy. People need to eat. Most often, people opt for junk food when these two realities collide...daily.
Randy Johnson is webmaster of http://whyamifat.org, a website he started at the time he first began the commitment to burn some serious fat. Since the site's origin, Johnson has lost quite a few pounds and a noticeable amount of fat. As his journey continues, he seeks cutting edge nutrition and exercise concepts to amplify his results and perpetuate his improved habits.
Johnson first heard about Dr. Steven Sisskind when he discovered RealDose Nutrition's Weight Loss Formula No. 1 a few months ago. Now a steady patron of this supplement (and also the RealDose Super Critical Omega-3 TG), Johnson was excited when he learned about Sisskind's latest RealDose provision - the meal replacement supplement called RealMeal GF (the GF stands for Grass Fed, as in the cows that provide the whey source).
The necessity of meal replacement supplements finds root in providing wholesome, protein-rich nutrition to people on the move - busy people who don't have time to prepare meals. It also offers an alternative to the ever-ubiquitous junk food - a modern plague to the American diet.
As for content, Johnson loves the sourcing and ingredients. A couple factors which he describes as most important are things like the whey protein's non-denatured processing (low-heat doesn't destroy nutritional values), grass-fed sourcing (no hormones), and its digestive enzymes.
Full product description is on the RealDose website.
About whyamifat.org: Webmaster Randy Johnson has been interested in weight management and fitness for many years now, but for so long had failed to see the forest from the trees. It wasn't until a recent in-the-mirror "jolt" that brought him to the consciousness of his personal failure with nutrition and exercise, as evidenced by the guy in the mirror. Ever since, Johnson has been dedicated to immersing himself in the science and self-activism of staying fit and healthy, and this website is his "journal."