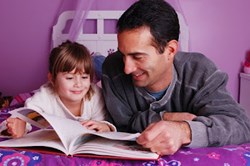 When children see themselves in the stories they read with their Dads, they build a positive self-image
Monroe, New York (PRWEB) January 24, 2014
Reading is linked to overall academic success. It can lead to a lifelong love of learning and education. But as with most things, as children are learning and adapting to the world around them in their formative years, they learn the most through imitation. Kids want to do what their parents are doing, and when kids see their parents read, to them or recreationally, they want to read as well. But this includes both parents, and that means dads, too.
1. Statistics show that children whose fathers read to them score higher in reading comprehension, especially boys. While mothers who read, to their kids and for themselves, is just as important and still inspires children to read, it's important that children see both parents read. This shows children that reading is important to life overall and are more likely to want to read when they have more positive parental reinforcement.
2. When children read with their fathers, they learn from them. Just as any person can learn different things from different people, children learn different things from each parent. They build a special relationship with them and get to know them in a different way. This becomes a personalized experience for both the parent and the child.
3. Reading creates a bonding experience. The physical closeness of story time and cuddling bring you closer to your kids. Hugging, kissing and tickling are all part of this bonding experience especially when it comes to reading. Therefore, it is very important for Dads to experience this bonding separately from Mom. Customized kids books, such as those made by KD Novelties, incorporate the child in the story and mention their parents throughout the stories. Kim Delgado spokesperson for KD Novelties adds that "By seeing themselves in the stories they read, children build a positive self-image, and when they can imagine both of their parents in their stories, they develop positive bonds with them as well."
4. Variety of Voice and Emotion - When reading and acting out voices and emotions it's important that children get used to the different tones and accents from Mom and Dad. It's part of their hearing and learning experience which increases their comprehension.
5. Double Reinforcement: Set the Example - If the kids see Mom reading then they will think reading is worthwhile. However, when Dad also jumps on the bandwagon the kids will start to realize that there is something to this "reading" thing. That is why reading with your kids early on in the process (both Mom and Dad) can help instill a love of reading in children. The more people the child sees interested in reading, will only help reinforce that reading is something important and enjoyable.
KD Novelties provides personalized gifts that will be treasured by children for a lifetime. Their line of personalized books, music and DVDs for children build self-esteem and motivates children to want to read and learn. Their goal is to make reading fun for children and have been doing so for over 10 years.