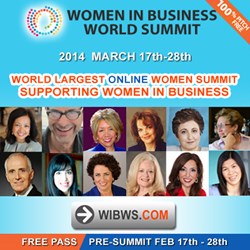 We are creating world peace through business education and women empowerment, it's time to bring balance and heartsoul back into our economies and businesses today.
Toronto, Canada (PRWEB) February 13, 2014
For the first time in 13 years, women are creating businesses at a higher rate than men in three of the 59 countries surveyed in 2012 by Global Entrepreneurship Monitor (GEM). And in the U.S., the rate of female-owned businesses has soared by 54% during the last 15 years.
Determined to raise these statistics even further, Women in Business World Summit (http://www.wibws.com) is striving to be at the forefront of this substantial growth and women empowerment through the platform that will be featured this month in their pre-summit series.
They have declared this women empowerment business summit to be a completely online, women business and leadership training platform with "TED Talk style" presentations that aims to support women entrepreneurs of all stages, create and grow businesses that are focused on benefitting all stakeholders involved – the people, the planet and the company.
"In essence, my vision is to create world peace through business by igniting women's HeartSoul Entrepreneurship" said founder and CEO, Dr. Annie Lim. "These women will, in return, create a profound impact in their respective communities through their knowledge, wealth, philanthropic work and compassion; while expressing their purpose, joy and love in the work they do."
Attendees will have the freedom to attend live sessions and interact in real time with world class leaders and women business speakers. It is a 100% no-pitch summit with world-class leaders and successful entrepreneurs and business experts.
The summit comprises two major parts: the pre-summit (February 17-28) and full summit (March 17-28). The pre-summit is complimentary; its sessions deliver stand-alone value and demonstrate the exact level of thought leadership that can be found at the full summit. Participants are given the opportunity to experience the complimentary pre-summit sessions for two weeks before deciding to register for the full summit at an affordable fee.
The opportunity to connect, network and build relationships with some of the top minds in the industry today is limitless. With speakers from different industries with different expertise, this is expected to be the most diverse online business event of the year, essentially boasting to have something for everyone.