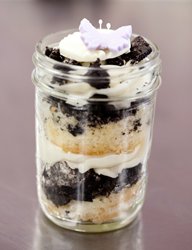 Boston, MA (PRWEB) July 11, 2014
Wicked Good Cupcakes announced a partnership today with entrepreneur and philanthropist Marcus Lemonis, star of CNBC's hit show The Profit. Lemonis will be joining current partner Kevin O'Leary, star of ABC's Shark Tank, in a deal that brings together two of television's best-known entrepreneurs.
The partnership will allow Wicked Good Cupcakes to expand its product line from cupcakes in jars to other baked goods like cheesecakes in jars, pies in jars and brownies in jars, as well as broaden its line of gluten free offerings. It will also enable the company's West Coast customers to benefit from significantly lower shipping rates. They currently sell their cupcakes in jars online at their website and ship their products nationwide.
"We're extremely excited to have Marcus join our team," said Tracey Noonan, co-founder of Wicked Good Cupcakes. "His vast experience in the baked goods industry, particularly in the gluten free space, lines up perfectly with our goal of providing superior products and services to our customers."
"The addition of Marcus gives us a remarkable team capable of doing amazing things," added Dani Vilagie, Noonan's daughter and Wicked Good Cupcakes co-founder. "Between Marcus, Kevin and the rest of our talented team, there's nothing we can't accomplish."
"I'm thrilled to be able to contribute to one of America's fastest growing confection brands," said Lemonis. "I plan to utilize all of my resources and experience to contribute to our growth. Wicked Good Cupcakes has a fantastic product, a well-executed process and the best people."
"Wicked Good Cupcakes has been one of Shark Tank's most successful businesses when measured by distribution and sales growth. This deal with Marcus is another milestone in their growth, and will be integral in helping us to achieve our future goals." said O'Leary.
About Wicked Good Cupcakes
Wicked Good Cupcakes® is a family-owned and operated manufacturer and distributor of unique gourmet food gifts, baked from scratch, for individuals and large corporate events. They gained national attention in 2013 when they struck a deal with Kevin O'Leary on the hit ABC reality show Shark Tank where they featured their unique cupcakes in jars. Since then, they have seen their company grow by over 600% in less than a year.
Wicked Good Cupcakes delivers not only on taste and freshness but presentation as well. Passionate about food, it shows in every bite. If they are good enough to be backed by Shark Tank's Kevin O'Leary and The Profit's Marcus Lemonis ...they're probably something you should try. Products can be ordered online and are shipped nationwide by going to http://www.wickedgoodcupcakes.com
About Marcus Lemonis LLC
Marcus Lemonis is an entrepreneur, investor, television personality, and chairman and CEO of Camping World and Good Sam Enterprises. Camping World is the nation's largest RV and outdoor retailer, and Good Sam, is the world's largest RV owner's organization. Through Camping World and Good Sam, he leads nearly 6,000 employees in over 100 United States cities. Lemonis was named RV Business Magazine's "Newsmaker of the Year" in 2007, landed on Crain's Chicago Business "40 under 40" list in 2005, and was named Ernst and Young's "Entrepreneur of the Year" in 2008.
Lemonis is also known as the "business turnaround king" and star of CNBC's prime time reality series, The Profit, in which he lends his expertise to struggling small businesses around the country and judges businesses based on a "Three P" principle: People, Process, and Product.
The Profit returns on CNBC this fall with new episodes airing October 2014.
A vast variety of businesses can be found under his holding company Marcus Lemonis Enterprises LLC, such as: 1 800 Car Cash, AutoMatch USA, Amazing Grapes, Bee's Knees, Dapper Classics, E-Net, Key West Key Lime Pie Co., Little Miss Baker, Matt's Cookies, Mr. Green Tea, Pie King, ProFit Protein Bites, RawONE, Sweet Pete's and Rose's Café & Bakery.
More about Marcus Lemonis LLC can be found at http://marcuslemonis.com.
About Kevin O'Leary
Kevin O'Leary is an entrepreneur and financier, best known for his role as an investor on ABC's Shark Tank. He leads a group of financial companies, and is chairman of O'Leary Funds. He is also the founder of O'Leary Fine Wines and the bestselling author of Cold Hard Truth on Men, Women and Money. Previously, O'Leary founded and was president of SoftKey (later called The Learning Company), a global educational software company, and negotiated its $4 billion acquisition by Mattel. For more information, visit http://www.kevinoleary.com and follow @kevinolearytv.