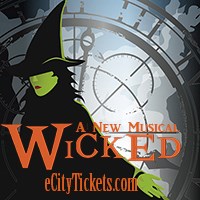 Wicked Musical tickets are in high demand now for Chicago, Minneapolis, Kansas City and other cities so fans should lock in great seats now at eCityTickets.com.
(PRWEB) October 16, 2013
Wicked Musical tickets have been in high demand as the North American tour is in full swing. While still playing New York and London, Wicked will visit another 8 US cities in 2013. Ticket sales have reached record numbers in cities like Chicago, Minneapolis, and Kansas City as fans rush to see this Broadway hit live. Great seats for these performances are sometimes hard to find and fans can count on eCityTickets.com to have tickets available for every show nationwide.
The Gershwin Theatre in New York has hosted the Wicked Musical for 30 years with thousands of fans in attendance. A complete schedule of announced tour dates for the rest of this year is listed below and fans can find great seats now by following this link: Wicked Tickets.
2013 Tour Dates:
Wicked New York, NY - Gershwin Theatre
9/18 – 10/27 Minneapolis, MN - Orpheum Theatre
9/25 – 10/6 Little Rock, AR - Robinson Center Music Hall
10/9 – 10/27 Kansas City, MO - Music Hall Kansas City
10/30 – 12/21 Chicago, IL - Oriental Theatre at Ford Center
10/30 – 11/10 Des Moines, IA - Des Moines Civic Center
11/13 – 12/1 Indianapolis, IN - Murat Theatre
12/4 – 1/5 Cleveland, OH - State Theatre
12/26 – 1/12 Providence, RI - Providence Performing Arts Center
Early 2014 Tour Dates:
1/8 – 1/26 Buffalo, NY - Shea's Performing Arts Center
1/15 – 2/9 Pittsburgh, PA - Benedum Center
1/29 – 2/16 Memphis, TN - Orpheum Theatre
Fans of the 1939 classic film "The Wizard of Oz" will want to take the entire family to see Wicked the musical. With performances scheduled throughout this year and next fans are bound to find a performance in a nearby city. Wicked is based on the Gregory Maguire novel Wicked: The Life and Times of the Wicked Witch of the West. This novel is a take-off from the original 1900 novel: The Wonderful Wizard of Oz by Frank Baum. Wicked the musical is told from the perspective of the witches of the Land of Oz. Elphaba is the misunderstood girl with emerald-green skin and Galinda, later Glinda, the beautiful, ambitious and popular blonde. Wicked the musical begins before and continues after Dorothy's arrival from Kansas. Rogers and Hammerstein's The Wizard of Oz was a big screen mega-sensation. The elaborate costumes, beautiful sets and emotional story line touched the heart of people coast to coast. The first television broadcast of The Wizard of OZ was in 1956 and as an annual tradition of many families was named the most watched motion picture in history according to the Library of Congress.
Wicked the Musical tickets are available for purchase online today at eCityTickets.com. Great seats in all price ranges are available. As one of the leaders in secondary ticket sales, eCityTickets.com offers great seats with budget friendly prices and selection for the savvy fan even when others are sold out. Find Wicked Musical tickets today to lock in the best seats.