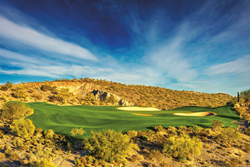 WICKENBURG, Ariz. (PRWEB) November 27, 2019
Home sales continue to be very robust at Wickenburg Ranch, and they are excited to announce the celebration of their 500th net sale last month, with the sale of Homesite 266 to Jim and Sue. Jim is a native Texan, and Sue grew up in the Phoenix area. They have been together for 33 years and are excited to start their next chapter at Wickenburg Ranch away from the Scottsdale traffic. They are most looking forward to meeting their new neighbors and enjoying the great outdoors, as Jim enjoys fly fishing and golf.
From the beginning of the planning and development stage, Wickenburg Ranch has offered homebuyers a unique and robust offering of amenities. Complementing their unique community offerings, Wickenburg Ranch answered the increased desire from buyers by releasing brand new homesites this month. New Homesites will be available in both the Silverado neighborhood by Shea Homes® and in the Lonestar neighborhood by Dorn Homes. Each of these homesites provide prime access to Li'l Wick and The Watering Hole, two of their Members' favorite amenities, as well as easy access to their new Lake Park coming in December 2019. This month's release contains many high demand, interior homesites, which provide you with the best value available. These homesites won't last long!
Wickenburg Ranch also announced that beginning later this month, they will be offering select floorplans from two new builders, Shea Homes® and Dorn Homes in the Outlaw neighborhood. This is in addition to the existing semi-custom offering from CS Edmunds Homes. The Outlaw neighborhood features their largest homesites available and with new, smaller floorplans from all 3 of their Outlaw builders. Residents will be able to enjoy the great outdoors to the fullest on these expansive homesites. Wickenburg Ranch has also redesigned and upgraded the Outlaw neighborhood entrance to welcome you home like never before.
About Wickenburg Ranch:
Wickenburg Ranch is a resort lifestyle community in Arizona. Built on the western traditions of its namesake, Wickenburg Ranch offers those looking for Wickenburg, AZ new homes the opportunity to enjoy a lifestyle that is unlike any other in Arizona. A top notch resort feel and amenities invite residents to step outside and share in the expansive mountain and golf course views. Whether they choose tennis, golf, hiking or fine dining, Wickenburg Ranch is designed for one thing—to exceed every expectation.
For more information visit http://www.WickenburgRanch.com or visit their newly renovated onsite Discovery Center. Follow Wickenburg Ranch on Facebook and Twitter.