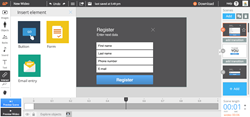 Wideo helps marketers meet the growing consumer demand and buying power of video
San Francisco, CA (PRWEB) February 03, 2016
Wideo, a leading animated video creation software, releases interactive video technology and analytics tools that allow businesses to create and distribute professional videos, all from one platform. Wideo developed these functionalities so that marketers can meet the rising consumer demand for video with robust yet easy-to-learn tools at an affordable cost.
Videos shared or embedded from Wideo now support interactivity and toggling between streaming mode and slideshow presentation by clicking a button on the player. Interactivity allows marketers to add clickable call to actions in their video in order to help translate viewing into action for the audience. Meanwhile, a new dashboard reveals metrics on video views, audience demographics, and form submissions - allowing marketers to not only to create videos but also distribute them and track their performance.
CEO and co-founder Agu De Marco says: "Through interviews with our users, we saw a theme emerge: businesses use our tool because it provides them with the flexibility and functionality to easily make video stories — whether it's a marketing video or company announcement. A solution like this is unique because it helps marketers meet the growing consumer demand and buying power of video."
Through interviews with businesses in their customer base, Wideo collected feedback that helped mold the new functionalities. Wideo launched in 2012 as an online application for consumers to improve the way they communicate through video. It's grown to become an essential tool for over one million users worldwide to incorporate interactive video storytelling into their broader marketing strategy.
Wideo's new features include:

Interactivity: Insert email sign up forms, contact forms, and call to action buttons to help generate leads and conversions.
Presentation mode: Toggle from video streaming to slideshow presentation mode from the video player, avoiding the need download video in a different format.
Store individual animations: Save and reuse scenes of video to ensure consistent brand identity in marketing materials.
Analytics tools: Track performance of shared videos with insights on views, retention, audience demographics, and other video metrics.
Video library management tools: Manage video library with folders and privacy controls.
Product demo and presentation templates: Professionally-designed styles for the fast and easy creation of on-brand videos.
About Wideo:
Wideo is a leading animated video and presentation web app that allows businesses of all sizes, marketing professionals, and educators produce their own professional-quality video content. Its click and drag animation technology and tools for brand identity make it easy to use to use, yet robust enough to produce unique results for people with or without prior editing experience. Wideo also provides resources such as educational guides, interactive video technologies, cloud video hosting, and analytics so that businesses can harness the power of video in their marketing strategy. Founded in 2012, Wideo is based in Mountain View, California with offices in Buenos Aires, Argentina and Seoul, South Korea.
For more information, visit wideo.co to sign up.