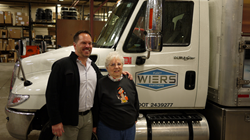 Customers relate to the small town values and ways of doing business
Indianapolis, IN (PRWEB) December 01, 2014
Fifty years ago in 1964 a small trucking company, started 7 years earlier by Wayne and Heddy Wiers, was approached about becoming an International Harvester dealership. They saw a great opportunity, sold the trucking company and took the risky entrepreneurial dive into a new side of the trucking business.
"As a young married couple, my parents didn't have a lot of capital so the early years were a struggle," said Tom Wiers. "My dad knew trucks through his experience in the trucking industry. However, the truck dealership had other elements like truck sales and parts that were new to him."
Wayne and Heddy eventually hired two mechanics and had a very nice small business in Plymouth, Indiana. In 1992, the Wiers were looking at buying a large parcel of land to substantially expand the truck repair and maintenance side of the business. Their son, Tom, had just graduated from The United States Military Academy at West Point and was touring out West on motorcycles with fellow classmates when he got the call. His father had suddenly passed away and his mother was thinking of selling the business. Tom convinced his mother to go ahead with the expansion and to give him a shot at running the business - the second entrepreneurial dive. In 1994, with a strong new start, the company changed its' name from Wiers Truck Service and Equipment to Wiers International® Trucks.
Wiers International Trucks has grown from two technicians to a team of over 100 employees today. The now expanded Plymouth dealership and service center has been joined by Lafayette and Logansport facilities. And, in the past year, two new service centers, Wiers Fleet Partners, have been added in Indianapolis with plans for further Midwest expansion.
"The culture of the company reflects Midwestern values. Businesses like ours have not survived in the smaller communities. Our commitment to treat customers and employees right is the key to our longevity and prosperity," he said. "They relate to the small town values and ways of doing business, and I think that's served us really well as we go into the larger markets. It's really appealing to our customers. That's really the key to our success."
However, it all comes back to the solid cultural and business foundation laid down all those years ago.
"I would like to thank my parents, Wayne and Heddy, for their years of hard work and sacrifice. Their vision and willingness to take a risk is why Wiers will continue to prosper for many, many years. We want to say thank you to the community as much as anything for supporting our business for 50 years," said Tom.
About Wiers
Established in 1964, Wiers International Trucks provides sales, leasing, body shop, parts and service centers for medium and heavy duty vehicles in Plymouth, Lafayette and Logansport, Indiana. Wiers Fleet Partners has two convenient repair and maintenance service centers for light, medium and heavy duty vehicles in Indianapolis and growing. Wiers is Quick Turn Quality™: the proactive attention of an expedited initial diagnosis with daily status updates on your vehicles and all the work done by highly trained expert technicians utilizing the latest technology and tooling. Since 2011, Wiers technicians have won 15 awards at IMTA, ATA TMC SuperTech and Navistar competitions. For more information visit http://www.wiers.com