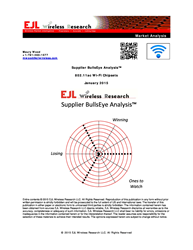 Qualcomm, Broadcomm & Marvell have earned a spot within the Winning sector.
Salem, NH (PRWEB) January 30, 2015
EJL Wireless Research has released its Supplier BullsEye Analysis™ report on 802.11ac Wi-Fi chipsets. We rank Qualcomm as the top supplier within the Winning sector while Realtek is ranked at the bottom of our analysis in the losing sector. The analysis is based upon a quantitative scoring of the commercial and technical merits of eight 802.11ac chipset semiconductor suppliers. The numerical scores are then placed within three sectors: Winning, Losing, and Ones to Watch. The suppliers within the Ones to Watch sector are those whose solutions are ranked as either improving in both technical and commercial merits and moving towards the Winning sector or declining in both technical and commercial merits and moving towards the Losing sector.
"This new report incorporates the recent 802.11ac Wave 2 chipset announcements at CES 2015, and quantitatively ranks the eight leading Wi-Fi chipset suppliers using twelve key technical and business criteria. EJL Wireless Research is introducing its Supplier BullsEye Analysis™ with this report, providing penetrating insight for Wi-Fi infrastructure OEM senior managers and other decision makers in the wireless networking equipment supply chain," said Principal Analyst, Maury Wood.
"This report is the first to incorporate our new Supplier BullsEye Analysis™ methodology of providing an unbiased and insightful quantitative analysis of both technical and commercial merits for vendor solutions spanning semiconductors, subsystems, software and other wireless telecommunication networking solutions," says Earl Lum, Founder and President.
The report is currently available for purchase and information can be downloaded at http://www.ejlwireless.com.
About EJL Wireless Research
EJL Wireless Research provides proprietary, accurate and cutting-edge market analysis and consulting services on the wireless technology ecosystem and defense and aerospace industries. The firm's wireless infrastructure research division focuses on all vertical elements of the wireless ecosystem including mobile subscribers, mobile operators, mobile handsets, mobile infrastructure and mobile content. In addition, the firm provides analysis across horizontal technology suppliers including RF semiconductor materials, RF semiconductor/components, subsystems and OEMs. Similarly, the defense and aerospace division focuses it efforts on the ecosystem supporting UAV and airborne platforms and subsystems. Our goal is to provide our clients with mission critical market analysis and information.
EJL Wireless Research believes it has a corporate responsibility, both local and international, in giving back to the community. Please visit our website for more information about the charitable organizations it supports at: http://www.ejlwireless.com/corporate_responsibility.html.
EJL Wireless Research is managed by Earl Lum. Mr. Lum has over 20 years of experience within the wireless industry including 8 years as an Equity Research Analyst on Wall Street covering the global wireless industry. The company is headquartered in Salem, NH. For more information about EJL Wireless Research, please visit the company's websites at http://www.ejlwireless.com or http://www.ejldefense.com.