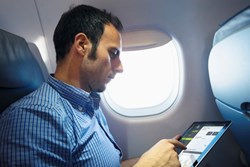 The future of multi-tenant WiFi lies not only in providing reliable coverage and capacity but in the ability to provide insight into both network health and user behavior - Tom Doyle, President, Spot On Networks
New Haven, CT (PRWEB) February 12, 2014
NetPulse360™ allows Spot On Networks residential property customers, including property owners, managers and leasing agents, to monitor the health of their WiFi networks in real time. NetPulse360™ includes a suite of features allowing senior level property personnel to create new user identification codes, view live splash pages, reduce bandwidth to certain users, etc., in addition to access to network user analytics and WiFi network health information. NetPulse360™ was designed to allow property owners to monitor their WiFi networks from laptop, tablet or smartphone anywhere there is an Internet connection.
"Our relationships with many of the top Multifamily Residential Owners and Managers in the U.S. have led us to believe that the future of multi-tenant WiFi lies not only in providing reliable coverage and capacity but in the ability to provide insight into both network health and user behavior," said Tom Doyle, President of Spot On Networks. Mr. Doyle added, "Our mission with NetPulse360™ was to create an easy to use web application that would fulfill the network monitoring and network control functionality that building owners desire".
NetPulse360™ Beta features include:
o Real-time bandwidth monitoring
o Access point monitoring
o Monitoring of one WiFi network or multiple networks in a portfolio
o Different access levels for property owners, property managers and staff
o View and monitor network users and gain insight into how tenants are using the network
o Download analytic reports
o View property splash pages
o Generate registration tokens for new residents
Other network monitoring web applications will only work with one brand of network equipment often causing properties to choose between having network monitoring and having the right equipment to provide the best property coverage. NetPulse360™ is a technology agnostic approach to traditional network monitoring applications allowing for the monitoring of multiple equipment brands supported by Spot On Networks.
About Spot On Networks
Spot On Networks ("SON") is a wireless internet service provider (WISP) providing managed UserSafe™ WiFi networks to multitenant properties, hotels, assisted living and the restaurant industry. SON's wireless infrastructure supports add-on wireless applications that solve the most pressing problems facing property owners including poor indoor cellular coverage, patient care and energy management.
Spot On Networks is the only WiFi provider with UserSafe™ technology and the U.S. leader in managed WiFi.