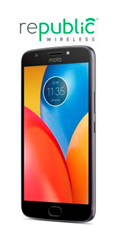 "With a large high definition display and extra long battery life, the Moto E4 Plus is a terrific handset for value oriented phone lovers who want a little more at a still reasonable price point."
Raleigh, NC (PRWEB) August 14, 2017
Continuously expanding its product portfolio with a full range of the latest Android smartphones, WiFi calling innovator Republic Wireless today announced the availability of the Moto E4 Plus for just $199 (or as low as $12 a month with financing from Affirm). For those who regularly find themselves needing to charge their phone, the Moto E4 boasts a 5000 mAh battery, providing up to 2 days on a single charge.1 The Moto E4 Plus is also equipped with a 13-megapixel rear camera, a 5-megapixel selfie cam, and a quad-core processor for watching videos and playing games.
"With a large high definition display and extra long battery life, the Moto E4 Plus is a terrific handset for value oriented phone lovers who want a little more at a still reasonable price point," said Chris Chuang, chief executive officer for Republic Wireless. "Motorola has done a terrific job with the E Series – providing consumers a very affordable smartphone option that boasts advanced cameras and features that just a few years ago would have only been found in smartphones that cost hundreds of dollars more."
Technical Specifications

5.5" HD display and metal design. Bring photos, videos, and games to life on a stunning smartphone with a huge screen.
5000 mAh battery and rapid charging. Go up to 2 days on a single charge and fuel up fast with a 10W rapid charger.*1
Water-repellent coating. Never let spills, splashes, or a little rain get in the way.2
Fingerprint reader. Instantly unlock phone using just the touch of a finger.
Advanced cameras. Take beautifully sharp photos and selfies, even in low light conditions.
Quad-core performance and 4G speed. Watch videos, play games, and more powered by a Qualcomm® Snapdragon™ 427 processor.3
Android™ 7.1 "Nougat." Enjoy an updated version of the world's most popular operating system
*5000 mAh is the typical capacity.
Viewed by many in the industry as the "WiFi first" pioneer, Republic's smartphones deliver high quality and savings by using the less expensive WiFi network when possible and seamlessly connecting to nationwide 4G LTE cellular network whenever necessary. Starting at $15, all Republic plans include unlimited talk and text whether on WiFi or cellular, and instead of paying a premium for unlimited data with caveats buried in the fine print, customers chose the cellular data they really use.
Republic's Adaptive Coverage™ blends WiFi with cellular to create expanded network coverage for consumers that is less expensive to operate. The Clear Choice Plans pass these savings on to customers in the form of being 40%-60% less expensive than comparable plans from the big carriers.

Unlimited Talk & Text + WiFi Data /$15 a month
Unlimited Talk & Text + WiFi Data + 1GB Cellular Data / $20 a month
Unlimited Talk & Text + WiFi Data + 2GB Cellular Data / $30 a month
Unlimited Talk & Text + WiFi Data + 4GB Cellular Data / $45 a month
Republic offers Android phones for all budget levels – for a full list of current devices please see http://www.republicwireless.com/phones. Of the carriers offering service over both WiFi and cellular, Republic supports the broadest lineup of Android smartphones in its Bring Your Own Phone program – currently 17+ Android smartphones (Marshmallow and above) from manufacturers including Samsung, Huawei, and Motorola.
About Republic Wireless
Recognized for offering the best basic plan by MONEY Magazine, a top pre-paid carrier choice by Consumer Reports and for excellence in user satisfaction by PC Magazine, Republic Wireless is on a mission to provide remarkably simple and affordable ways to stay in touch with anyone, anywhere, in any way. Headquartered in Raleigh, North Carolina, Republic Wireless leverages the power of both WiFi and nationwide cellular networks and gives consumers the ultimate flexibility to manage costs. The service uses WiFi in the home, office or anywhere else as the primary network for calls, texts and data. When outside of WiFi coverage, the smartphone works just like a typical smartphone on the cellular networks of national GSM and CDMA carriers. For more information. Media resource center here.