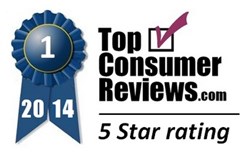 Shoppers will find a huge selection of wigs at Vogue Wigs, from the top brands in the industry.
Overland Park, KS (PRWEB) February 04, 2014
TopConsumerReviews.com recently awarded their highest 5-star rating to Vogue Wigs, an industry leader in online wig stores.
The popularity of wigs has dramatically increased in recent years for several reasons. Choices of authentic looking wigs are not only abundant, they're also much more affordable than in years past. Women have also found that utilizing a wig is a convenient time saver over spending hours each week washing and styling their hair. The key to finding the right, authentic looking wig is knowing where to shop. Many wig customers have found that shopping for wigs online provides the largest number of wig choices at the most affordable prices.
"Shoppers will find a huge selection of wigs at Vogue Wigs, from the top brands in the industry," explained Brian Dolezal, of TopConsumerReviews.com, LLC. "The Vogue Wigs website is easy to navigate and well organized, with an extensive list of search options available to help narrow down your search and pinpoint exactly what you're looking for. It's also a wonderful site for wig shoppers with various budgets and needs. Their selection of wig styles, colors, sizes and price ranges mean that shoppers are likely to find success and satisfaction shopping at Vogue Wigs."
To find out more about Vogue Wigs and other wig stores, including reviews and comparison rankings, please visit the Wigs category of TopConsumerReviews.com at http://www.topconsumerreviews.com/wigs/.
About Vogue Wigs
Vogue Wigs is a rapidly growing e-commerce company that strives for excellent customer service as well as providing the best collection of wigs offered out on the market today. We have the best hand-selected collection of wigs and the most attentive customer service a wig buyer can experience on the net. Founded 10 years ago, this fast-paced and modern company has eyes set to provide the wig and hair community with only the best quality wig and hair products on the market. Located in Southern California, Vogue Wigs is in a central location to be in the loop with the latest styles and trends pertaining to fashion and hair for women, men, and children.
About TopConsumerReviews.com
TopConsumerReviews.com, LLC is a leading provider of independent reviews and rankings of hundreds of consumer products and services. From Wig Stores to Teeth Whiteners and Workout Programs, TopConsumerReviews.com delivers in-depth product evaluations in order to make purchasing decisions easier.