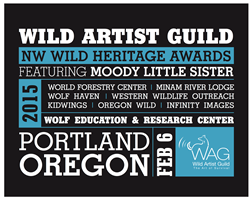 Hearing from those who are in the greater classroom of our wilderness can be inspiring.
Portland, Oregon (PRWEB) January 19, 2015
On the morning of February 6, 200 curious science minded middle schoolers from the Portland area will descend upon the World Forestry Center. They are coming to hear from biologists and scientists about carnivores in the West as part of a program hosted by the Wild Artist Guild.
Event organizer Chris Anderson describes, "This is a great opportunity to introduce young people to important subjects such as wolves populating Oregon and Washington after years of absence. A common question is 'Where were they?' and 'Why are they back?' Hearing from those who are in the greater classroom of our wilderness can be factually inspiring."
Anderson and his staff from the Wolf Education & Research Center (WERC), who've been teaching about wolves since the early 90's, are joined by Western Wildlife Outreach's Lorna and Darrel Smith of Port Townsend, Washington. Together they will lead an engaging discussion about bears, cougars, and wolves. Students will then watch the documentary The Great Wolf Divide: A Predator's Dilemma followed by a Q&A session called Ask the Biologist, led by Jeremy Heft, WERC's Biologist and caretaker of the famous Sawtooth Pack: Wolves of the Nez Perce. The World Forestry Center generously donated the coveted room for the event.
"Our hope is to inspire the next generation of wilderness stewards by introducing topics and ideas that influence young people. They are the future and we owe it to them to make every effort possible to hand off a thriving one," Anderson continues.
The morning activity precedes a greater outreach called the NW Wild Heritage Awards and Concert where Anderson's team will be showcasing art, hearing from experts in the field of iconic carnivores and ecology, and presenting six awards for leadership from the region. The awards include three cash grants to area nonprofits.
"We will celebrate three organizations who epitomize leadership in the ecology community, including demonstrating the unique and wonderful bond between animals and humans," states Anderson. "We will also present an award to an inspiring teacher, a journalist, and an entrepreneur. And if for no other reason, guests will witness remarkable art and music of Portland band Moody Little Sister. "
Information about the 2015 NW Wild Heritage Awards & Benefit Concert can be found online at http://www.wildartistguild.org. Tickets are $25 per person for Awards & Concert or $10 to attend Moody Little Sister's performance.
The NW Wild Heritage Awards & Concert is sponsored in part by the World Forestry Center, Oregon Wild, Western Wildlife Outreach, Minam River Lodge, Kidwings.com, Wolf Haven Int'l, and Infinity Images. Donated art includes the work of John J. Martinotti, David Woody, Scott Doying, Kathy Hughbanks, Michael Dustin, and Kathleen Flanagan-Kresa.
About Wild Artist Guild
Wild Artist Guild is an extension of the Wolf Education & Research Center, a northwest educational nonprofit that operates an Idaho wolf sanctuary and works to create educational messages about top predators and their essential place in ecosystems. WAG is a conduit for artists who desire to leverage their creative skills toward positive messaging campaigns that serve to unite the public in community, inspiration, and purpose. More information can be found at http://www.wildartistguild.org and http://www.wolfcenter.org.