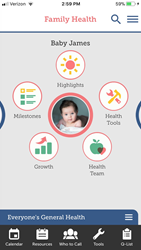 We've proven the power of helping new moms and their partners navigate healthier pregnancies using mobile technologies, and we see the same potential for helping families take a healthier path from the moment a child is born.
SAN FRANCISCO (PRWEB) September 17, 2018
Wildflower Health, a leading mobile health software company, today announced it has launched enhanced capabilities to support new parents during the critical first 1,000 days. Building on the strength of its maternity programming, Wildflower's Family Health platform can now support parents as they manage the health needs of their newborns and their entire family during early childhood.
Countless research studies have documented the importance of the first 1,000 days, from conception until a child's second birthday. Without a strong support system, issues stemming from malnutrition and undetected developmental delays can have a negative and irreversible impact that lasts a lifetime.
In the app update this week, the new health view focuses on early childhood development and parental health. Wildflower seamlessly transitions its support of families from pregnancy to parenthood. By simply swiping between health views within the Family Health mobile app, parents can manage the health needs of each family member. Specifically users can:
Access education on important topics for young children, such as nutrition and sleep.
Keep track of developmental milestones and manage important activities such as scheduling recommended well-child checks.
Addresses important challenges facing new parents, including screening for postpartum depression.
"A series of small decisions, missed opportunities and gaps in knowledge can undermine the health and wellbeing of babies and toddlers for a lifetime," said Leah Sparks, founder and CEO of Wildflower. "We've proven the power of helping new moms and their partners navigate healthier pregnancies using mobile technologies, and we see the same potential for helping families take a healthier path from the moment a child is born."
Wildflower's platform embeds Bright Futures development guidelines for early childhood care that have been published by the American Academy of Pediatricians. These guidelines advocate for periodic well-child checks, measurements, sensory screening, development/behavioral assessments, physician exams and procedures aimed at monitoring milestones including emotional regulation and attachment, language development, cognitive development and motor skills. It also enables digitization of user entered data that is collected through in-app tools and surveys. This data can be used to risk stratify individuals and personalize care for those with emerging challenges.
"The team at Wildflower recognizes that pregnancy and birth don't occur in isolation. It's part of a family's life course," said Dr. Priya Batra, Senior Medical Director for Family and Community Health at Inland Empire Health Plan (IEHP). "The first two years are so critical for child development and such a great opportunity to share knowledge and build healthy behaviors that positively affect the health of a family long term."
A not-for-profit Medicaid managed care plan based in Rancho Cucamonga, California, IEHP was an early adopter of Wildflower's Family Health platform, and the first to roll out the newborn to toddler health view.
"We wanted to leverage the power of mobile tools to specifically improve health care quality measures for early childhood, such as well child visits, developmental screenings and vaccinations," said Dr. Batra. "We strive to offer top of the line technology to our members, and we needed a solution that measured up to that high bar. Wildflower provides our members high-quality information, reminders and tools while allowing them to review and manage the health and wellness of their entire family all within one shared mobile application. We are very excited about this partnership."
The app drives informed decision-making and self-care, including pre-visit prep and post-visit follow up. It also builds stronger relationships among employers, payors and providers to collectively support and sustain engagement with families as their health needs change.
"We build amazing relationships with our app users during pregnancy, and we're excited to maintain that positive influence as they begin their parenting journeys," said Sparks. "We want to go the distance with families, engaging and supporting them at every age and stage by continuing to make intelligent connections between their families and the care they need, when they need it."
Available in the iTunes App Store and Google Play, the app offers decision support tools, education modules, milestone-driven care plans and reminders for immunizations, doctor visits and preventive health. Key features include:
Clinical content on development milestones by age for the baby, such as vision, dental health
Life hacks on sleep, first week with baby at home, swaddling, traveling
Parent education on when to go to the ER, choosing a pediatrician
Tools to track feeding, diapers, baby's growth
Tools for mom, such as postpartum depression survey and parenting support
Tips for spouses or family/friends
In-app links to health system and community resources (e.g. Find a local Pediatrician)
In-app notification and reminders for key events
Wildflower's latest technology release comes on the heels of a recent acquisition of the Circle Women's Health Platform, incubated by Providence St. Joseph Health (PSJH), the nation's third-largest nonprofit health system. The combined teams have already begun integrating best practices and key features from the Circle platform, including Circle-inspired improvements to the user's personalized news feed and the app's vaccination tracker.
"The transition to parenthood can be overwhelming at times," said Dr. Christine Picco, a board certified physician in the Sutter Medical Network and member of Wildflower's strategic advisory board. "New parents often have trouble connecting the dots when the various answers they need seem scattered around a fragmented system. They want, ideally, a single, reliable source of trusted information that can answer questions, offer support, and recommend resources. With this new release, Wildflower is further bridging the engagement gap by forming an ecosystem of connected care for each family they serve."
To learn more about the Wildflower Family Health Platform or to request a technology demo, please visit http://www.wildflowerhealth.com. Take the app for a test drive by downloading it from the iTunes App Store or Google Play.
About Wildflower Health
Wildflower grows healthy families by making intelligent connections between consumers and their healthcare. We simplify healthcare every day, helping families manage the health needs of moms, dads, kids and aging parents on one shared mobile application. Our mobile-based enterprise software serves as a digital catalyst for our clients, improving clinical outcomes and operational efficiency, while increasing engagement, satisfaction and loyalty. Visit us at http://www.wildflowerhealth.com.
About IEHP
IEHP, Inland Empire Health Plan, is a not-for-profit Medi-Cal and Medicare health plan located in Rancho Cucamonga, California. With a network of more than 6,000 providers and more than 2,000 employees, IEHP serves more than 1.2 million residents in Riverside and San Bernardino counties who are enrolled in Medi-Cal or Cal MediConnect Plan (Medicare-Medicaid Plan). Through a dynamic partnership with providers, award-winning service and innovative products, IEHP is fully committed to providing members with quality, accessible and wellness-based healthcare services. http://www.iehp.org.