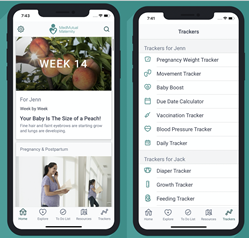 "We are excited to partner with Wildflower to help moms and families thrive through the enhanced digital support we offer with trusted information, supporting tools and care connections right at their fingertips."
SAN FRANCISCO (PRWEB) September 09, 2021
Wildflower Health and Medical Mutual have teamed up to launch the MedMutual Maternity app, featuring trackers and tools for expectant mothers, along with clinically trusted content to support members on a wide range of pregnancy and parenting topics. This partnership further strengthens Medical Mutual's population health model, which supports the health and wellness of 1.6 million members through digital, telephonic and in-home programs customized to the individual's health needs and engagement preference.
Wildflower Health delivers personalized experiences that activate women in their own care, while simplifying the healthcare journey for families with a modular model of human touch and digital tools. Medical Mutual tapped Wildflower Health to offer its members 24/7 support through the MedMutual Maternity app, which is designed to educate, empower and facilitate connections to needed resources.
"Our members have trusted us with their health for almost 90 years," said Teresa Koenig, M.D., MBA, Medical Mutual Executive Vice President and Chief Medical Officer. "Maternity, postpartum, newborn and pediatric health are very important areas of our population health model and member experience. We are excited to partner with Wildflower to help moms and families thrive through the enhanced digital support we offer with trusted information, supporting tools and care connections right at their fingertips."
The MedMutual Maternity app features include:

Personalized videos and content based on mother's health conditions and stage of pregnancy
Fetal movement tracker
Centering and meditation tool
An extensive Learn Library of articles
Feeding and diaper tracker
Developmental milestones for children from birth to 2 years old
For when moms-to-be need to speak with a nurse, the MedMutual Maternity app has a click-to-call feature to connect to Medical Mutual's team of specially trained maternity health coaches, available 24/7, who can provide valuable knowledge, advice and comfort during the pregnancy.
Additionally, the app is integrated with Medical Mutual's case management team. Based on responses to in-app surveys at the beginning and end of the maternity journey, high-risk patients are escalated to Medical Mutual's clinical staff for outreach and follow up that can include coaching via telephone or in-home support for high risk pregnancies.
Medical Mutual also is making this technology available to its network providers. OB-GYNs can receive access to a provider-focused version of the MedMutual Maternity app to use with their patients. In these scenarios, patients will be connected to resources and support from their provider and Medical Mutual, all within one application.
"We know that women are looking for tools to support their pregnancy journey and that they deeply value digital support from sources they trust," said Leah Sparks, Founder and CEO of Wildflower Health. "We are proud of the work we've done in partnership with Medical Mutual to bring provider and health plan resources together and ensure members have a clear path to healthy pregnancies and healthy families."
The MedMutual Maternity app recently launched in the Apple App Store and Google Play Store. Medical Mutual members interested in downloading MedMutual Maternity can visit their app store or the Medical Mutual website.
About Wildflower Health
Wildflower connects women and families to better care by breaking down silos among providers, payers and best-in-class partners. Our digital platform and virtual patient advocates engage the Chief Health Officer of the home (aka mom) by delivering personalized experiences that simplify the healthcare journey for families. Our model also fuels the transition from fee-for-service to value-based care. Empowering women. Collapsing silos. Rewarding value. This is a smarter way to care. http://www.wildflowerhealth.com
About Medical Mutual of Ohio
Founded in 1934, Medical Mutual is the oldest and one of the largest health insurance companies based in Ohio. We provide peace of mind to more than 1.6 million Ohioans through our high-quality health, life, disability, dental, vision, indemnity and wellness plans. We offer fully insured and self-funded group coverage, including stop loss, as well as Medicare Advantage, Medicare Supplement and individual plans. Medical Mutual's status as a mutual company means we operate for the benefit of our members without needing to meet the demands of stockholders or Wall Street analysts. Instead, we focus on developing products and services that allow us to better serve our customers and the communities around us and help our members achieve their best possible health and quality of life. For more information, visit the company's website at MedMutual.com.