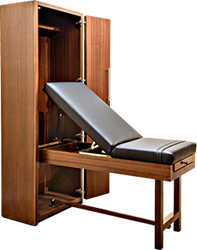 "Our Clinical Pro Series furnishings fit many different hospital and Dr.'s offices applications perfectly. This quality is now available in our consumer product line." - Dan Wilding, President of Wilding Wallbeds
(PRWEB) December 19, 2016
What started out as a premier product for Clinics and Hospitals is now a product for consumers in their own homes. Wilding Wallbeds has been making handmade Murphy Beds and custom furnishings for over two decades. Their attention to quality craftsmanship and using the best solid hardwoods, caught the attention of clinics and hospitals that were looking to use some of their folding furnishing solutions for their facilities. To answer the need of clinics and hospitals Wilding Wallbeds created a line of industrial grade furnishings called the Clinical Pro Series.
The Clinical Pro beds were designed to handle up to 4,000 lbs. of weight and the exam tables up to 2,500 lbs. of weight. The Clinical Pro Series uses top-of-the-line finishes provided by Sherwin-Williams that contain Microban® antimicrobial protection.
Well Known Anti-Microbial: Microban® is a common well known product used in many hospitals and clinics.
Continued Protection: Unlike surface disinfectants, which temporarily eliminate microbes, Microban® technology works 24/7 to inhibit the growth of microbes. It never has to be reapplied and won't wash off or wear away, so it continues to provide protection for the life of the coating.
The news of using products with a well-known anti-microbial was well received by the Infectious Control Departments in hospitals and clinics. It did not take long for the general public to take notice of the Microban® offering on the Clinical Pro Series. Requests came in to have the option of these finishes on the consumer furniture product lines.
Wilding Wallbeds found that there is a large number of consumers that have a great interest to increase purchases of products containing antimicrobials, anticipating that this may help them reduce their risks from microbes, molds and other potential infectious foreign bodies. To satisfy this customer demand, Wilding Wallbeds will now offer the Microban® finishes on their entire consumer line of furnishings upon request.
To discuss anti-microbial options with a Wilding Wallbeds representative, please call: 1-866-877-7803
Email questions: info@WallbedsByWilding.com
Web address: http://www.WallbedsByWilding.com