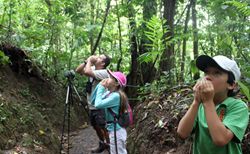 San Francisco, CA (PRWEB) March 31, 2014
Award-winning Wildland Adventures specializes in family adventure travel and offers incredible itineraries around the world crafted with families in mind.
The family travel experts at Ciao Bambino highlight Wildland's most popular family travel experiences for 2014:
South Africa
Wildland Adventures South Africa Family Safari is one of their newest trips to Africa, combining fun and active outings such as kayaking in Cape Town and a specially guided "young adventurers" wildlife program in select private game reserves of the Kruger National Park. Pricing starts at $995 for kids 6-10 and $4,100 for adults. It's the best way to combine the fun activities and culturally rich heritage of Cape Town with the world renown wildlife viewing of the Kruger National Park.
Costa Rica
Wildland Adventures Lapa Rios Tropical Family Adventure takes families into the most verdant tropical ecosystems in the remote rainforests of the Osa Peninsula and the mystical cloud forests of Monteverde. Private naturalists provide the ultimate learning experience for young adventures and are skilled at spotting wildlife. This nine-day tropical adventure includes lodging at the award-winning eco lodges Lapa Rios and Montverde Lodge, unlimited onsite rainforest tours of your choice at Lapa Rios, zipline canopy tour, hanging bridges tour and if families are traveling from April 20 to December 19, Wildland Adventures will give them an extra free night at Lapa Rios. Pricing starts at $2,425 for kids 6-12 and $3,215 for adults.
Ready to plan a vacation-of-a-lifetime? Visit Wildland.com for more information.
Learn More About Family Adventure Travel
Interested in taking a more active and adventure-oriented vacation with kids but don't know where to start? The Smart Parents Guide to Family Adventure Vacations is a downloadable guide filled with essential adventure family travel tips and information.
####
Ciao Bambino! is a leading family travel brand and global family travel planning website featuring curated family-friendly hotel reviews, an award-winning family travel blog offering tips, news, and narratives related to traveling with kids of all ages, and a comprehensive Family Vacation Consulting service. Get more information on CiaoBambino.com.