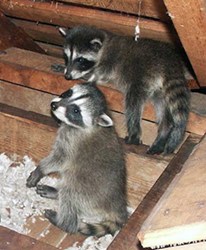 San Antonio, TX (PRWEB) August 04, 2013
Leading wildlife animal control company, Critter Evictor is now offering an unprecedented 15-month warranty on critter removal and exclusion services. Specializing in rodent removal and exclusion services, Critter Evictor does not deal with pests such as ants, roaches or termites.
Unlike a standard pest control company, Critter Evictor is experienced with the habits of rodents like squirrels, opossums, mice, rats and raccoons. Their process includes humanely flushing the animals out with pheromones to ensure entire family leaves, as trapping often leaves babies behind which can lead to problems in the future.
Standard pest control companies will also just remove the animals and leave many repairs necessary to block them from returning up to the customer. After Critter Evictor removes the rodents, full exclusion work is performed, so every access point for the rodents is sealed. Most rodents have multiple entryways and Critter Evictor will find them to make homes or businesses secure.
With the 15-month warranty, Critter Evictor ensures that rodents will not return after the removal and exclusion process is complete. Critter Evictor has 20 years of experience humanely and professionally removing wildlife. These animals can cause a lot of damage to a home, so it is important to have them removed safely and for good.
Call Critter Evictor at (210) 551-0345 to make an appointment.
About the Company:
Critter Evictor is a full service wildlife control company that specializes in humanely removing rodents, birds and bats. At Critter Evictor, they are experts at rodent removal and exclusion. They guarantee satisfaction and offer a 15-month warranty to ensure the sanctity of the home and peace of mind. Simply, they complete the task as a true solution to this problem. They are a qualified animal removal company offering their services to San Antonio, Texas and surrounding areas. For more information visit their website, http://www.AnimalControlServiceSanAntonio.com, or call (210) 551-0345.