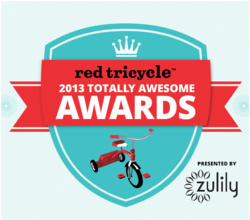 It's truly exciting the number of people that voted for us as their number one choice for online shopping for baby and kid essentials.
Plantation, FL (PRWEB) September 25, 2013
Wild Mint, a company that offers toxin-free, eco friendly solutions for healthy families on their website, WildMintShop.com, was voted into the top 5 of Red Tricycle's 3rd Annual Totally Awesome Awards. Wild Mint was nominated into the "Most Awesome Shopping Sites" category where people could vote for them as their go-to online resource for healthier, safer products for their home.
The Red Tricycle Totally Awesome Awards are put on annually by digital media company, Red Tricycle, to allow parents to decide on the best local parenting resources, favorite kid's brands, products, and online sites. The public is able to both nominate and then vote for their favorite hot-spots both locally in select cities and online. Along with the category that Wild Mint was nominated into, some other categories that people voted for on a national level included Healthy Snacks, Playroom Must-Haves, Strollers, Summer Resorts for Families, and Toy Storage Organizers. This year, the Awards amassed more than 236,000 online votes in 94 categories.
"It's truly exciting the number of people that voted for us as their number one choice for online shopping for baby and kid essentials," said Wild Mint President, Hannah Helsabeck. "As a company, we know we will only keep growing and helping families as we continue to be the top trusted resource where people can learn about dangerous chemicals and find safer, toxin free products."
Wild Mint, which began in 2011, is a one-stop-shop online site where families can find safer items for their homes and lifestyles as well as learn about chemicals in everyday products. Their website has quickly grown from a place to find mostly safer kitchen items, to a source that now offers a plethora of products in many different categories. The latest product additions to Wild Mint include a large selection of safer, green cleaning items as well as lifestyle products including yoga mats, toxin free candles and eco friendly wine charms.
About Wild Mint
Wild Mint is dedicated to helping people live eco friendly, healthy and non-toxic lifestyles. Started by a mother of 6 in her quest to find safer alternatives to toxin-laden products, the company shares invaluable knowledge and resources on their website, http://www.wildmintshop.com. On a mission to positively influence people's lives, Wild Mint is a one-stop source for trusted information and safer, more environmentally friendly products.
About Red Tricycle:
Founded in 2006, Red Tricycle (http://www.redtri.com) is a digital media company that provides authoritative, localized content (things to do, see, eat or buy with kids in a city) to its growing online community of busy urban moms through a variety of communication devices: email, website, social media, RSS, mobile. Their mission is simple: To help parents have more fun with their kids.